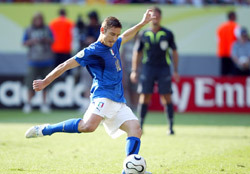 World Soccer: Did you ever think before last season that you would win the ESM Golden Shoe?
No, never. I am a typical No 10, more the person to set up goals than to score them. Because of Roma's system and because we were without a really prolific striker, I moved up front. But to be honest, I like scoring more than providing assists.
At what point did you think about winning the trophy last season?
I didn't even think about after the Italian season had ended because there were still some games left in Spain and Ruud Van Nistelrooy had a good chance to win it [he ended up with 25 goals for Real Madrid, one fewer than Totti].
Is it significant that you, as a No 10, won the Golden Shoe and not a typical striker?
Football has changed in recent years. To score goals as a striker is much more difficult than in the past. You have to be very strong and a complete player to score against strong defenders. The No 10 has become more important but it is not the same No 10 as in the days of Diego Maradona and Michel Platini.
Why are you scoring so many goals now, as opposed to recent seasons?
The season before last I was injured and I missed many games. Before that I played more like a midfielder, making assists.
You could have won the Golden Shoe much more easily; you missed six penalties.
It was better to miss because otherwise the end of the season would not have been as exciting and a little predictable! I'll carry on taking the penalties.
Who are your favourites for this season's Golden Shoe?
David Trezeguet of Juventus is a real candidate, and Luca Toni is dangerous, too; he can score a lot of goals for Bayern Munich. But I will give it a try, too. In terms of Serie A, I have more chance of finishing top scorer again because as well as Toni's departure, Cristiano Lucarelli has left for Shakhtar Donetsk and Rolando Bianchi went to Manchester City.
As well as the Golden Shoe, you won the Italian Cup and the Italian Super Cup. Are you in with a chance of winning the European player of the year award, and who else might be in the running?
I'm thinking of Kaka, Cristiano Ronaldo and Ruud Van Nistelrooy. But maybe I am a candidate, also. I think for all players who feel they have a chance it is important to have a good group phase in the Champions League.
What are your feelings about the Champions League?
It's the only prize I have never won, but as a Roma player it is very difficult to win it. Of course, I dream of winning the Champions League, but every year the same teams are the favourites. The [other] Italian teams, Real Madrid, Barcelona, Chelsea, Liverpool and Manchester United. Barcelona are serious contenders because they've got Ronaldinho, Henry, Messi and Eto'o.
Roma play Manchester United again in the group stage. Will you be looking for revenge after the 7-1 defeat in last season's quarter-finals?
Of course, I would love to win 7-0. But I had better not say these kind of things. The English tabloids print everything because they have to sell a lot of copies.
You have announced your international retirement. Why did you quit?
I turned over an important page in my career. It was a hard decision but I had to make it. It was too much for me. It has nothing to do with Roberto Donadoni as a coach. I decided to quit when Marcello Lippi was still coach.
Do you still think that, as a player from Rome, you attract criticism?
Yes. In difficult times the media used me as a scapegoat. They say I am lazy and a tourist. That hurts me a lot.
Is there any chance of a return?
The 2010 World Cup finals would be a tremendous experience…I would say ni [Italian for yes and no]. It is very difficult to say something about it at this moment. I'm not saying I'll never come back. Of course I want to play in the World Cup in South Africa, but a lot of things have to happen. My life at this moment, playing for my club and being with my wife and kids, makes me happy.
Do you think Roma will be among the Serie A title contenders this season? Inter coach Roberto Mancini says your team are playing very well but you finished 22 points behind his side last season as they won the championship.
That's true, but Inter had 40 quality players and we were usually using the same players. But when you see the first XI I think Roma have a stronger team. I see us as one of the four favourite teams. But we are from Rome. When it's good, it's really good, but when it's bad they kill you. Over the summer we lost Cristian Chivu, the best central defender in the world. But with Juan, Cicinho and Ludovic Giuly we have three good new players and, of course, our squad is young and ambitious.
Could you ever leave Rome?
It's my town, I grew up in the city and I've lived here all my life. Roman people are special. What I have with this club I could never find anywhere else. I worked for my place here and I am not curious about how things are at another club.
Do you go out and about in Rome?
Certainly not. It's eight years since I went out in the city, and that was by night. I have not been there in the daytime for 18 years. It is hard to be Totti. My life is at Trigoria, Roma's training centre, and at home. My life with my wife Ilary and the kids, Christian and Chanel, is private and I want to keep it that way. People have to accept that.