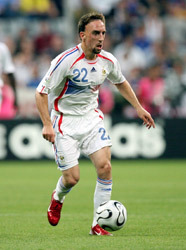 World Soccer: How do you feel about being proclaimed the new superstar of the Bundesliga?
That's not a role I want or, for that matter, that I think is due to me. I have no ambition to be the superstar. All I want now that I have settled in at Bayern is to be able to work hard, fulfil what is expected of me, enjoy my football and entertain my team-mates and the fans. And I want to win titles and trophies. Then I will be happy.
What are Bayern's priorities this season, given that they are not in the Champions League?
To win the German League. We are also in the UEFA Cup; we can go all the way to the Final of that.
You personally have started well. How have you found your first few weeks at Bayern?
It was not easy to leave Marseille but I get on well with all my new team-mates, and the coach, Ottmar Hitzfeld, has helped me a lot. He gives me a lot of good advice. The team spirit is excellent – and all that helps me to do my best out on the pitch. I get on well with the coach. Mostly I talk to him with [Belgian defender] Daniel Van Buyten to translate, or [French full-back] Willy Sagnol. The first time I went to the coach's office it was so he could tell me how he wanted me to play, whether I preferred the left or the right, if I could play in behind a striker. That sort of thing.
What did you tell him?
That I prefer to play on the left but if, because of injuries or whatever else, he needed me to play on the right then I would happily do so. In the League Cup against Werder Bremen, for example, I started out on the left and later I tucked
in behind Miroslav Klose like an old-fashioned No 10.
Why did you join Bayern?
I felt they were the club who really, really wanted me. There were contacts with Real Madrid and with Arsenal, but after last year's World Cup Bayern let me know in no uncertain terms that they really wanted me to go there. Even though I stayed on for another year at Marseille, they never gave up on me. I talked it through with Willy Sagnol and Bixente Lizarazu, who know German football and Bayern very well of course, and they told me how it all worked, that it was a good standard of football which would suit my game.
Were they right, from your first impressions?
Yes. But it's very different to French league football. I found out straight away that here in Germany they "play" a lot more with the arms, particularly the defenders, in obstructing forwards. But one thing I really like are the stadiums. We played a League Cup quarter-final at a third division stadium in Dusseldorf in front of more than 50,000 fans. How many fans can you get in a third division stadium in France?
Do you like the Allianz Arena?
I knew the Allianz Arena already because I played there for France in the World
Cup semi-finals, and it's the best stadium I've seen in Germany. What I had not seen before I came here was the training centre. It is already very good but Bayern are in the middle of redeveloping it – lots of pitches, treatment rooms, medical staff. Highly professional. Nothing is left to chance, during the week or on matchdays.
There is a French-speaking "community" at Bayern. Did that influence you in your choice of club?
No. Of course, it's good to have Willy, Daniel and Valerien [Ismael] here but I would have come anyway and had a "proper" interpreter.
Did you expect to make such an instant impression with the fans?
I did not think about that in advance but certainly it's true that people in the city recognised me very quickly. That, for me, was a positive sign. Hopefully, I can learn enough German as soon as possible. I didn't know any of the language before I came here but I know it's very important so I've started taking lessons. Anyway, I like
the city and so do my wife and daughter. It's important that the family feels at home.
You have a reputation for playing practical jokes on your team-mates. Have you maintained this at Bayern?
Yes, I have always been the same, I will not change now. I cut the ends off Daniel's socks when he was in the shower. He could not understand what had happened! He is a lot taller and heavier than me but I am quicker! Anyway, I think in football people need a sense of humour. Everything gets taken so seriously.
Who was your hero?
Diego Maradona, for me, is the best footballer of all time. In recent times, Zinedine Zidane. He was outstanding.