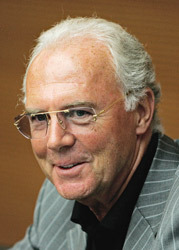 World Soccer: You've just been elected been elected to the FIFA executive. Is it logical that you will take over from Sepp Blatter as FIFA president?
Not in my mind, no. I have a family, I have two small kids, six years and three years, who I also have to take care of. It takes a lot of my time, watching my kids growing up. For the next four years, I have been elected from UEFA to serve on the executive committee, so I don't know what to expect. The president has been re-elected because there was no competitor for this position. We should be very happy to have a man like Sepp Blatter in such a leading position. He has done an excellent job and will do so for the next four years.
So it's too early to speak about the presidency?
Yes, I am thinking about tomorrow, not what is going on in four years!
Are you happy that Michel Platini is UEFA president?
Yes. Lennart Johansson did a wonderful job and UEFA now is in the best condition ever. But Johansson is now nearly 80, so it's natural that a younger man has succeeded him. Platini won the election and now everybody has to work with him. He is a former footballer, a young, very dynamic person. I think he will be a very good successor.
He also has a very different style. Johansson was a ceremonial president. But Platini wants to be the presidential president, living in Nyon and being in the office every day, like Blatter.
It's in his mind to do the same job for UEFA that Sepp Blatter is doing at FIFA. They've always been very, very good friends. They've been working closely together for the past decade.
I can't imagine you doing the same as Platini. That's not your way of doing things, living near the office.
For me it's impossible.
Is it a good thing that a former player and coach is the most powerful man in UEFA?
Platini comes from football, he knows everything about it. Now he is reorganising UEFA so that power goes back to the executive committee members, like FIFA. There is no reason to change big things, because UEFA is in a very stable position and condition. The same goes for the Champions League. Maybe when the TV and sponsor contracts run out you can have a new system.
What goals do you have in your FIFA role over the next four years?
First, I have to talk to Sepp Blatter, find out what is going on, what he thinks of me in this position, what committee I should go on – maybe the technical committee. What I have in mind is Africa. We have a lot of poor parts of the world, but the whole continent of Africa is poor. I spoke briefly to Sepp and said maybe we can do something to help Africa. Football is one of the few things that can help. Sepp always says that we cannot change the world, but that football can do something to have a better world. That's a target and we should take this chance.
In 2006, you organised a perfect World Cup. It will be hard to repeat it in South Africa, with all the problems?
They have experienced people there – such as Danny Jordaan, Irwin Khosa and FA president Molefi Oliphant – we have known them for the past eight or nine years, since they bid for the 2006 finals. They have the full support of FIFA. Of course, it's going to be different to the last World Cup, but it's going to be a good one.
Will there be special help from Germany?
Our vice-president from the 2006 organising committee, Horst R Schmidt, has been sent to South Africa by FIFA. He was the most important person in our organisation because he has been in the job for more than 30 years. The first World Cup he organised was 1974, so he knows everything about doing it, he's the guarantee. From November he will spend two weeks every month in South Africa.
What did the 2006 World Cup do for the image of German football?
The people are still talking about the World Cup. The mentality, the German feeling for the country, is back. After the Second World War, the Germans were always forced not to be too nationalistic. Now, during this World Cup, the Germans were waving flags, they painted their faces black, gold and red, they had the colours on their cars. It brought the national pride back. It also helped the economy – people have more trust in the country, so they spend more money.
Unemployment has fallen from four million to under three. 2006 is also important because the world now has a different opinion of Germany. It was a nice World Cup, a charming World Cup. Everybody was in a good mood.
Football has played an important part in German history. The 1954 World Cup helped restore pride after the war.
Yes, that World Cup was probably more important because after the war the country was finished, it was a total disaster. But after '54, the Germans got their recognition partly back.
The German national team had a good World Cup, too, last year, so why are German clubs struggling in European competition?
Yes, Germany were excellent, but they did have home advantage. Look at the squad – which of them is playing abroad? Michael Ballack is now at Chelsea, but at the time of the World Cup there was only Jens Lehmann. That's always a sign. One of the best times for German football was in the early 1990s – when we won the World Cup in Italy, we had six or seven players playing outside the country.
A number of English clubs have been taken over by foreign billionaires. Does the same thing have to happen at German clubs so that they can get the funds to allow them to compete?
If there is somebody like Roman Abramovich or George Gillett – whom I met at Anfield, a nice guy – who comes to Bayern Munich [Beckenbauer is club president] and says they would like to invest their money in the club, why not? I think we would open the door.
But would you want to keep the ownership as it is?
Yes. A federation regulation says you can sell only up to 49 per cent of a club's shares. Bayern is still owned 90 per cent; we sold a 10 per cent shareholding to Adidas.
Does it make sense to keep it 49 per cent for the future?
I don't know. So far there has been no interest from German companies or from other people around the world, so it has not been necessary to talk about it. To sell a club 100 per cent is a very delicate situation. What happens if Abramovich tells Chelsea tomorrow that he's not interested any more? The club goes from heaven to hell.
Talking about big clubs, what do you think of Platini's proposal to reduce from four to three the number of Champions League places going to the Italian, Spanish and English leagues, to give more space to clubs from smaller leagues.
It's not a big change. There are only three leagues with four places. In Germany, we only have three, in France they only have three. The problem with the Champions League is the name. It's more or less a European league not a Champions League. That's what all the big clubs wanted; they have it. The Champions League is in a very healthy, wealthy condition.
Can you envisage the big clubs ever breaking away from UEFA?
I don't think it should happen. The way everything is at the moment is perfect. Maybe give one or two countries an extra place. It wouldn't be a revolution.
What about a revolution in the rules. Do we need to change anything? What about technology to help referees?
Referees are human beings, they make mistakes. They are in a very difficult situation because now we have the opportunity to see on television in slow motion whether someone is offside or not. Sometimes it's only one or two millimetres.
The game is 90 minutes long, but the time the ball is in play is more like 60 minutes. If you have technology to have an official on the sideline to tell you whether something was offside or not, that would be even more disruption. We have to live with the mistakes. Why not? On Mondays, when workers go back to their jobs, they discuss what happened in the game, this mistake, that mistake. It's emotion, and football is emotion.
What about four assistants and one referee?
You could try it, why not? There was a different test in the past for two referees, one in each half, and then they gave the linesmen more power. It's not easy because it's a very delicate situation.
Is it the main issue affecting football?
Yes, I think so. Football is a game everybody understands because the rules are very simple. So leave the rules simple, don't make it complicated.
What about foreign players at club level? Sometimes Chelsea field no English players, for example.
I'm a little bit amazed that there is no reaction from the crowd. At Bayern Munich and other big clubs, the majority of players are foreigners, but there is no reaction from the public. They don't care if there are 10 Brazilians as long as the team is winning. It's European law. The European community needs to change the law. The best thing would be to have a regulation – maybe six local players and five foreigners, or five local players and six foreigners. It would be good for the young players coming up, it would give them more chance to develop. And that would also be good for the national team.
Which players have impressed you this season?
Kaka impressed me a lot in Milan's two games against Bayern Munich, and his team-mate Clarence Seedorf, who was in great form. He was fantastic against Manchester United. I like another Milan player, Gennaro Gattuso; it's very important to have a player like that.
Who's the best player in the world currently?
I like watching Ronaldinho but for me Kaka is the most effective player.
Platini has said Kaka reminds him of a cross between Johan Cruyff and a young Platini. Does he also remind you of a young Beckenbauer?
No, I played in a different position, in defence. My strength was the offensive game, even though I played in a defensive position. My game was to push forward. [Keeper] Sepp Maier was always complaining: "Come back! Come back!"
What does not playing in next season's Champions League mean for Bayern Munich?
Image-wise, it's a disaster because Bayern have played in the Champions League for the last 10 or 11 years. We are losing a lot of money, of course, and we have now realised it's the end for this team, that we have to change it. I was so mad after we lost to Stuttgart in April because that was our last chance to qualify for the Champions League. But the team played like old-timers, like a veterans team. The performance was a disaster. I was so angry I said after the game: "Everybody goes." Of course, that's impossible. We have to keep some important players. But we must change the rest. The team was playing the whole season with this attitude.
Is it important to have been a player to coach at a high level?
No. I was a coach and I felt it was easier to talk to the players because they believed in me, they knew whatever I said to them was right because I had done it on the pitch myself. But it's not a must.
Many players earn so much money now that they won't need to go into coaching. How do you feel about that?
It's a pity because we need the experience of these great players.
Are coaches criticised more now than in the past?
It's still the same. The media interest has changed, that's for sure. In my time as a player, 30 years ago, there were only a few journalists at the World Cup. It was a big story when we lost to East Germany at the 1974 finals, how we had lost to our brothers. It was the first time that coach Helmut Schoen had taken me to a press conference, it was not usual to take the players. He wanted me to come because I was the captain. It was a small room like this, with 20 or 25 people. Today, you have 500 people at a press conference. That's the big change. Also, football players are now like movie stars. They can't leave a restaurant without being photographed. It's not a good life to be followed every second of the day.
Only two people can answer this question, you and Mario Zagallo. Which was the greatest feeling – winning the World Cup as a player or as a coach?
Effort-wise, to be a coach is maybe a little bit more, it means more to win as a coach than as a player. As a player, you are responsible for your position and the rest you don't worry about. But as a coach, you are responsible for the whole team, for the whole organisation. As a player you have plenty of time, you have to practise, you have a regular lunch or dinner, but the rest of the time you don't care. A coach has to care about everything.
Is it harder to win the World Cup or organise the World Cup?
Winning the right to host the World Cup and then organising the World Cup is the biggest thrill that you can have in this game. Winning the World Cup as a player or a coach can happen every four years but organising the World Cup is something that happens to you only once in your lifetime. I am sure that in the next 50 years there will be no World Cup in Germany.
What are the main differences between now and when you played?
Football has changed so much. On television you can see the English League, the Brazilian League. Thirty years ago you could only watch your own league. Players go all over the world, football has gone global. That's a good thing. If you had told me 30 years ago that Brazilians would be playing in Moscow, I would have said you were crazy. But now it's the reality.
Interview with Gavin Hamilton