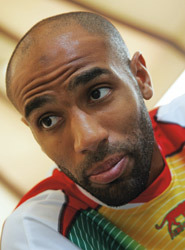 You played for Tottenham, and now Sevilla. How does La Liga compare to the Premiership?
Freddie Kanoute:They are very different. In England the game is quicker because it never stops; it comes from the mentality of the British people, who are very passionate. In Spain, it's more technical, you take time to make nice football, you have more time to develop the game. I liked the Premiership, it was a physical, pacy game, and you had to be strong to be able to cope with that. But in Spain maybe I have more fun because the team are playing well and we just enjoy it on the pitch.
Why did you decide to leave Spurs?
I felt good there, but it was a decision between the manager [Martin Jol] and me. I don't think the club were willing to keep me, so I decided, OK, it's better I go and try something else. I could have stayed in England, but I opted for a complete change. I enjoyed my life in England and London especially. I have a soft spot for London, I love it. It is so cosmopolitan. You can find many kinds of people there, everyone is mixed in and you can go to different neighbourhoods and find different cultures. It's an open place, and I like that. In France [Kanoute's native country], if you're a little bit different, people make you notice that.
How did you feel going back to Tottenham in the UEFA Cup quarter-finals last season?
The fans tried to intimidate me by booing and all that, but at the end I saw a lot of people clapping me. I was thrilled with our performance and very happy with the result [a 2-2 draw, which put Sevilla through 4-3 on aggregate].
Mali is the homeland of your father but why did you decide to play for its national team, having been born in France and played for French national youth teams?
I was playing for France's Under-21s, but you know you don't have time to think about this there. At 18 or 19, as long as you play quite good football, they call you up. I didn't get the chance to think about which country I was going to play for, so I played for France. After the new FIFA rules, I could change if I wanted to. I didn't want to at first, but then I thought about it and decided to switch. I've always been interested in African football, I've watched many African Nations Cup tournaments and wanted to take part so I decided to play for Mali.
It wasn't a universally popular decision, was it?
Everyone spoke their mind, and I can understand it. People said this is silly, why do you want to play for Mali, but it was personal. Only a person like me who has two cultures can understand this kind of decision. It happens a lot in France. For example, a lot of Moroccan players born in France have chosen to play for Morocco.
You've been a practising Muslim since you were 20 [he is now 30]. Have your team-mates got used to you laying out your prayer mat in the dressing room?
Yes, I find a quiet place and I pray. Sometimes my team-mates see me, but they know that I'm a Muslim. They understand and respect this and are curious, especially when Ramadan comes around. They wonder why I don't eat, and have a lot of questions.
Has it been difficult practising your religion in Spain, such a staunchly Catholic country?
I don't think of how people look at me, I'm just natural and it's my way. Islam has helped me to be this way, so this is something normal. It's a path you take to keep you normal, to keep you calm, to help you think about the place you live in, to love your neighbour and the people you live with. It's strange for me when I hear about all these problems of terrorism because it is the opposite of what I understood for Islam. But it's like this in every religion. We shouldn't focus too much on Islam, because things happen in Christianity and Judaism also.
Explain why you set up the Development Trust charity.
When I've been through the streets of Bamako [Mali's capital], I've seen how desperate some of the young children are, so I wanted to help. I had this idea for quite a long time, and I wanted to do something in charity work. With help, I decided to set up the Trust [www.developmenttrust.com] and now it is going very well. Inshallah [God willing], we're going to start a children's village for orphans [in Mali]. We've bought the land and now we're dealing with an architect who is going to start building soon.
How have your family, your wife Fatima and your two children Ibrahim and Iman, adapted to life in Andalucia?
They picked up Spanish like this [snaps his fingers and grins]. It's funny that the children can speak French, English and Spanish, and it's a good opportunity for them, but we have to keep their level of English up because now they are forgetting some words at times.
Will Sevilla be your final club?
Why not come back to the Premiership one day? I still love it there.