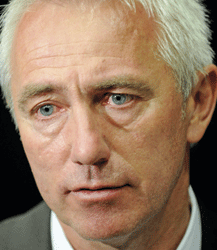 World Soccer: What are your priorities, thinking ahead to the finals?
Bert Van Marwijk: I think only about our first match, against Denmark. We have no secrets from each other and some of their players are playing in Holland. It will be a very difficult match.
How do you feel about your first World Cup?
As a player I was chosen for the squad in 1978 but then I was injured and missed it. I don't worry that I have not been to a World Cup before because I have a lot of experienced people around me. My coaching colleagues Frank de Boer and Philipp Cocu played – was it 1500 games for the national team? – so we have a lot of experience. In December, at the draw in Cape Town, suddenly you could feel it coming closer. In my office in Zeist every week we sit there with all the staff talking about only one thing – the World Cup. Outside on the street when people come up to me they want to talk about only this one thing.
How would you describe your team's ideal style of play?
We like to play the way Barcelona play – only they do it better than us and [in Spain] they have perhaps the best national team as well. When you see Barcelona playing it's very creative but what you see with Barcelona and Spain and, I hope, with Holland, is about that very important moment which is when you lose the ball. Then, as a team, you see Barcelona exert pressure to get the ball back as soon as possible. It's easy to say, not so easy to do. The whole team has to believe in it and do it and, for the most creative players, this can be very difficult. But with Barcelona you see Messi do it and Xavi do it and now Ibrahimovic do it.
Can a national coach instil that into his players?
A national coach doesn't have much time to work on things like that while at Barcelona, of course, they can work on it every day. Also all Spain's players play in the Spanish league and the English players play in the English league and the Germans – apart from Michael Ballack – all play in the German league… while our Dutch players are playing in Italy, in Spain, in Scotland and in Germany as well as in Holland in different styles. At least what I've seen from them in the last 18 months has been good and I'm looking forward to our serious preparation when I'll have my players together for three, four or five weeks to to work on all those things.
Do you favour one particular tactical shape?
People may say that it's 4-2-4 or 4-3-3 or 4-1-2-3 but when you have players like Arjen Robben and Eljero Elia on the wings you can't say it's any fixed shape. It all depends on which players are playing and the state of the game. That's the key to modern football: you have to have the possibility of changing all the time during a game depending on whether you are going forward or the opposition has the ball.
What's the situation with Ruud Van Nistelrooy?
I have watched Ruud a lot of times but he when you want to come back and play a World Cup you have to be top-fit and that's not easy after you have been out for a year and a half. At the beginning he phoned me and said he was finished with the national team and I said: "OK, I respect that." Then, after a year, he told the papers that maybe he would come back. But he is best person to know if he's fit and he will tell me… and then I will decide whether I take him to South Africa or not.
Are you worried about your defence?
I think almost all the countries have problems with defence and this is partly because it's very difficult to defend in modern football because you have to defend with space at your back. So, the best thing to do is learn to defend as a team – and that is what we try to do. The best example again are Barcelona. I was at the Confederations Cup in South Africa last summer and I saw the big countries play there and I saw they all had problems defending. So, no, I'm not worried about our own defence as long as the players all remember we have to defend as a team. It's also a matter of attitude. When I coaching Feyenorod and we won the UEFA Cup in 2002 we played against teams such as Rangers, Inter and Dortmund who had more money and better players. We didn't have the best team and we didn't play the best football but we knew that when we beat one team there would be another to beat and then another and that was our approach.
What did you learn from attending the Confederations Cup last year?
For one thing, we have made the right decision in going to a centre in Johannesburg because of the altitude. After one hour during games at the Cup I saw even the top teams' stamina had gone. It's better to go down to games at sea level than stay at sea level and have to go up for games. Also, it's important we have a good hotel because after our players have been together for even just two days they will want to go out; you can get to Nelson Mandela Square in 15 minutes. Maybe a Korean team can stay together for a month without complaining but our people have a different mentality. Other factors too: how long a drive do we have in the bus to training or the airport and the climate. In the daytime at that time of year it's lovely weather for training but in the evening it can drop to zero degrees.
Can you explain more about the choice of a central hotel?
I remember when I was a player how it felt after being in a hotel for just two or three days! It can be boring. Also, I know that with Dutch players in the same hotel over six weeks there will be some things happening! But that's not a problem. I will tell the players that not everything will go well but that's good because teams which learn to manage these things off the pitch will have more resilience on the pitch.
What is your ambition at the World Cup?
I'm a realist. I know the strength of Brazil, of Spain, of Argentina and of Germany and I think England are very good because they come from the strongest league in the world – and the English players are playing now in a European way. For 10 or 15 years now the best players have been going to England so the English are no longer playing kick and rush but now they have learned to play the way we play on the continent and, coming from the strongest league, they are very dangerous outsiders. As for us, we know we can beat every country and when you know that you go to a World Cup to win it, not to try just to win one or two games. I like good football and the way Barcelona played against Arsenal was the best I ever saw: for me the result was not important because I enjoyed watching the football so much. But, when you go yourself to a tournament, then results are important because you want to win.
Do the players feel the same?
It will not be easy because the big countries have more players. We have 16m people whereas in Germany they have 80m people and they have more potential from which to choose. In England or Germany or Spain if a player is injured they just open a door and another three or four good players come out. But we don't have that. So, we have to be a little lucky: all our players have to be fit and in form – and have the right mentality.
Can you explain "the right mentality"?
It's difficult. Two years ago I was in Austria for a coaches' congress and I remember listening to Mr Carlos Alberto Parreira talking about wining the World Cup with Brazil. I couldn't undertand too well what he was saying but there was an aura about him. That's what I mean about a mental thing.
Is it difficult instilling the right mentality then into Dutch players?
That's a Dutch problem: our character and our football character. We are a small country but a creative country and we have what Johan Cruyff always described as "a kind of arrogance" We cannot let that arrogance become negative. It must be a positive arrogance. When Holland are good we are very, very good…and then you can lose.