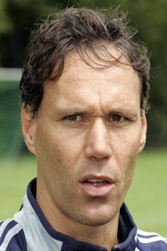 World Soccer: Was criticism of your team during the Euro 2008 qualifiers a factor in your decision to stand down after the finals?
No, it's part of the job if you become coach of a national team. You have good times and bad times because you simply can't win all the games. So when you lose, people always say it was a wrong tactic, a wrong whistle, a wrong substitution. There's always debate, that's part of the deal. It's more important to stay steady with players, stay steady in your own head, try to stick with what you think is best for yourself, for the team and for the players. It's not for me to change the people; you have to work with them.
But you've done a successful job, just five defeats in 44 matches.
Everybody was very happy at the beginning and I've tried to stay consistent. I did the same when the criticism was at its peak. I tried to do my own thing, I tried to act normal whether people were nice or angry. I try to be balanced and that is the only way, the best way, to handle it.
Was the success with Holland at Euro 88 the highlight of your playing career?
I don't know. I also won a few cups with Milan which were also very special. I remember the European Cup Final in Barcelona [in 1989, against Steaua Bucharest]. I came into the stadium and saw 100,000 Milan fans; that was very special. The fact that you win something with your country is also very special because you don't often have those experiences. The 1988 European Championship is the only thing Holland have ever won.
It must have been particularly special because of the celebrations in Holland.
Yes. Look at what happened in Greece after the last European Championship and before that in France and then before that in Denmark. If a country wins, it makes everyone happy and sometimes a bit crazy.
So is there an extra dimension to winning with a country as opposed to a club?
When a national team wins, everybody is happy, but when a club wins, not everybody is happy. Yes, you have some clubs in Holland like that. When the Holland team wins, 15 million Dutch people are happy. But if you win with Real Madrid more people are happy because they have fans all over the world.
Your playing career ended prematurely because of a serious injury. What did you think when you saw the challenge that sidelined Arsenal's Eduardo Da Silva earlier this season?
It's not good for football. The authorities have to give a signal. I agree with Arsene Wenger – if somebody makes a deliberate tackle that is nothing to do with football then he should be out of the game for as long as the other player is injured.
You once suggested that players who commit more than five fouls in a match should be automatically substituted. Have you discussed this with FIFA?
That's still my opinion but if you want to change these things you need 20 years. I don't want to expend my energy for something that is not realistic.
Michel Platini is now president of UEFA. Can a former player help to change things?
Yes, I hope so, but he is also caught up in the politics. It's difficult to effect change, you need a lot of power, a lot of support. I have had a chat with him about the national competitions. I think it's strange that France and Spain have 20 clubs [in their top division], Portugal have 16 clubs and we have 18 clubs in Holland. I would suggest it's good for football if every country has the same number of clubs playing in the same competition. He said: "I fully agree with you but every country can do what they want."
What about countries such as Switzerland with only 10 clubs?
But if everybody has the same number of clubs, say 18, then they have all expended the same amount of energy when they go to an international tournament. And it would be good to have a club squad system like the European Championship, so everyone starts the competition with the same number of players, say 26. That way, Chelsea would have the same amount of players as Fulham. At the moment you have Chelsea with 40 players and Fulham with 25. Quite a few of the Chelsea players rarely get used, even though they are better than the ones at Fulham. That's not good for football. Platini said: "I fully agree with you but I can't change these rules. That's the way football is organised."
Platini was talking 15 years ago the same way you are now. Could you go on to use your experience in a political way?
I've talked a few times with Platini and if he's not able to change the system, I would be the same.
But what about trying to improve, not change?
Yes, but it takes a long time. It's a pity because football is getting out of reach, out of touch. There are clubs now that are so rich and so powerful that the competition is no longer interesting. That's something you have to work on from above. If you don't work on it from above, it's just going to get worse and worse.
Does Dutch football still have an identity?
Holland's identity still exists. But we have a problem compared with 20 years ago, when we had three or four players playing in another country. Now there are 50 players abroad. So a lot of quality is playing overseas, and that's a pity. That's also to do with money and the foreign teams getting richer and richer, with TV and all these commercial things. Holland is simply not in a position to compete with the English, French or Spanish clubs. Every year it is more difficult. Holland is a small country, 15 million people; it can't compete with France or Spain.
But you still produce talented players.
Yes, but after one or two years, when they are 18 or 19, they go to other countries. That makes it very difficult to stay at a high level. The fact that we don't have a lot of money means we can't buy them [talented players]. In a few years' time, English and Spanish football will have all the players, the rest will be second-hand. l