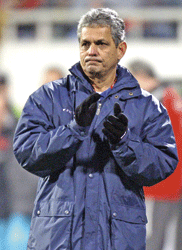 World Soccer: Why did you choose to take up the Honduras offer?
Reinaldo Rueda: I had seen that there were very good players here and it was a project that could be successful. My family supported me and these have been three-and-a-half years of learning. They had to live through the crisis last year with lots of tension
and readapt after the social upheaval.
Is there a parallel between your work here as a foreign coach and that of Marcelo Bielsa in Chile?
Yes, I think so, but with different conditions in a country like Chile with all its development as a society and in footballing terms compared with Honduras. I had seen Honduras when
I was coach of Colombia in friendlies and at the Gold Cup. I was captivated by the characteristics of Honduran players. But when you are here you realise other realities – organisational and structural factors, cultural issues like behaviour and nutrition in the players, training methodology, and how to introduce a tactical culture without taking
away the essence of the Honduran players.
How much support do you get from the clubs?
The local league is irregular, and I would say there are four teams at an acceptable level. It's hard for a player with little experience in the national team to acquire that culture, to show an interest in tactical aspects. We've come a long way but there is still a lot more to do.
What of the Honduran game's traditions?
I analysed the 20, 22 players who went to Spain for the World Cup in 1982, thinking there would be a minimum of 10 coaching in the league, maybe six or eight, but there had been only two. That means that of the 22 who experienced that World Cup there was no interest in multiplying what they had learnt. There was a hole.
Did qualifying for the World Cup help the country get over last year's presidential crisis?
I think it was a coincidence. We had set ourselves the goal since 2007, after analysing the regional rivalries, that the national team should be a unifying force in the country and we would have to win that on the pitch. So we had been working towards that when the events of June 28 [president Jose Manuel Zelaya was ousted in a coup] occurred and other factors came to the fore, not just regional rivalries but also political ones. It coincided with the final stretch in the CONCACAF qualifying campaign and the national team became a great cause in reuniting families and liberating tensions.
Was there a particularly crucial time in the qualifiers?
Yes, against Costa Rica at the start of the third round when the political divisions were still strong. Winning helped the people free their tension and embrace each other, as if finding each other again. With qualification in October, practically a month and half from the elections, Hondurans recovered their self-esteem and pride in their flag and their country.
So, how do you envisage it will go in South Africa?
Spain have some brilliant players in experience and technique and in essence they are a team who know how to keep the ball and they counter-attack you. Chile are totally different, they don't wait for you, they go looking for you in your half. Spain and Switzerland have perhaps a similar system but a different strategy. With Chile, everything is different, a team you have to be very intelligent to face.
You were granted Honduran nationality…
It's a nice distinction I take as recognition of our work. For me the best thing, above going to the World Cup, is to have recovered Hondurans' confidence and credibility in their national team.
Will you stay as coach after the World Cup?
The most sensible thing would be to leave a decision until afterwards but the federation want it before.