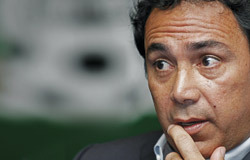 WORLD SOCCER: After fighting for so long to get the job, how does it feel to be at the helm?
As days and weeks go by, I enjoy the responsibility more and more. It's a job that seems to be tailor-made for me, I'm very happy with the way things are going. I'm starting to convince the players that they have to develop a winning mentality, and if we add teamwork and harmony I'm sure we will finally change the way the world sees Mexican football.
Some players have said they feel encouraged by being managed by their former idol.
It's not just the footballers who are excited; it's everybody around the national team – the mass media, the fans, the other coaches. I'm very surprised at the expectation we have felt in our friendly matches, we feel like we are already at the World Cup!
Why should that be?
I think it's because of the way the team is performing, its attacking style, and the fact that the players now feel it's just the best footballers who will be chosen, for their quality and not because of other unknown reasons.
For the first time, the squad has five players based overseas. Do you think this could help the team get to the next level?
When I say that all my players should go abroad, I really mean it. One match in a top European league is equivalent to 30 in the Mexican League. I also think the players will benefit a lot by facing the difficulties of adapting to a foreign culture. That strengthens their will and makes them better players.
Can you pick out some Mexico-based players who you feel should be playing abroad?
I think most of my players have the talent to play in the most important leagues in Europe. Obviously, some shine more than others, because of the positions they play in, but they're all among the best in the world. For instance, Guillermo Ochoa is an amazing young goalkeeper and should leave as soon as possible; Andres Guardado is another fantastic player who could play in any top European team; Omar Bravo, Alberto Medina, Adolfo Bautista…I'd better stop now or I will tell you the entire squad!
There seems to be a consensus that Mexican football has improved greatly. Do you agree?
I think the turning point was in 1993 when we played in the Copa America for the first time. We were banned from the World Cup in 1990 because of one of the most stupid mistakes in the history of our football [Mexico fielded over-age players in an Under-20 World Youth Cup qualifier and were suspended from international football for two years], and nobody knew what the real level of our team was. We reached the Final of that Copa and discovered we could compete.
Before that, we had the quality but not the confidence. Now Mexican football has evolved considerably, positioning itself among the top three in the Americas. The fact that we are playing regularly in South American competitions helps. In the past, we could play only against rivals in CONCACAF and the level of play was quite a bit lower. Now the national team plays in the Copa America and the clubs play in the Libertadores Cup and Sudamericana Cup with a lot of success.
You enjoyed much success as a player with Real Madrid and obviously liked it in Spain. Are there any other leagues that attract your interest?
I like English football a lot. I think it has improved impressively since the inception of the Premier League and now is firmly established as one of the top three leagues in the world. But what I really love about English football is the concept of the manager. I think that a coach has to have complete control over the club he is directing, and, sadly, that doesn't happen anywhere else. I wanted to import that idea during my tenure at Pumas UNAM and I ended up doing it unofficially because I really think that it's the best way
Would you manage there?
Of course, I'm more than able to manage in one of the top leagues in the world when my time with Mexico ends.
But first you have the Gold Cup and Copa America. What are your predictions?
We will win the Gold Cup and we will be up there fighting with Brazil and Argentina for the Copa America. I know that you have to be at your very best to beat those two teams, and that's why I don't want to promise the title, but we will be among the top four, for sure.
When you finish your Mexico tenure, how would you like to be remembered?
What I'm looking for is to make history, and that means producing performances and finishing positions better than previously achieved by the team. That's why I'm inviting every Mexican who wants to make history to come on my ship, which I call "the ship of success".
Where do you see yourself after World Cup 2010 in South Africa?
As a manager I would like to follow in the same steps I took as a player. I have done it with Pumas and the national squad, and the next one will obviously be Real Madrid, although I may have to manage another European club first. After that, I would retire from coaching, but I would love to remain involved with football.
Do you feel you are following in the footsteps of other football greats of your generation?
They are my references, especially Platini and Beckenbauer, who have had extraordinary success in everything they have tried to accomplish. I obviously want to follow in their path. I'm already a member of FIFA's Football Commission, and that has helped me understand how things work. I love that part of football and I would want to do it in a few years, representing the CONCACAF area.