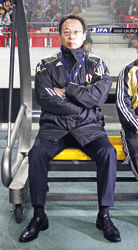 World Soccer: How does this team compare with 2006?
Takeshi Okada: In 2006, we had at lot of distinctive players of a kind we hadn't seen in Japan before, plus [Hidetoshi] Nakata, who stood out. It was a very good team that played positively in the style of Zico and Brazil. This time, the individuals may be a bit less outstanding but their togetherness and also the frustration of those who could not produce in 2006 may be pulling the team along. We have been playing to our strengths so far but I am weighing up my options. We mustn't stifle our strengths but we have to stifle our opponents.
What are your strengths?
Loyalty, working for the team – the statistics show we outrun our opponents in almost every game – and the small-scale skills. Quickness, too. We won't win if we only play to our individual strengths, but this team can make one plus one equal three.
Japan haven't had many games against first-class opposition…
Yes, that's a problem. The matches against Holland and Ghana were really our first. We fought both head on and I saw to some extent what would work, but really wanted one more to test a more stifling game. The warm-up games with South Korea, England and Ivory Coast may serve that purpose.
What are your impressions of your opponents – Cameroon, Holland and Denmark?
Cameroon are the top team in Africa. They didn't win the Nations Cup but they were the best in every match they played. They have great athletic ability and every attacker is fast, but there are ways to try to handle them. Holland are a bit too good. Perhaps it is rude to say so but I'd still prefer them to, say, Brazil or Spain, but they are top quality in every respect. It would be amazing to beat them. Denmark are very well organised. They are easy to read in a sense but we have to win one on one, which is hard.
You again look strongest in midfield…
I don't really have this picture of midfield strength. The precise choice and formation will depend on who we are playing. We have played 4-4-2, 4-2-3-1, 4-3-3, but, yes, we don't have any really outstanding forwards and will have to pack midfield to an extent.
Shinji Okazaki has been in very good form…
Okazaki is a very hungry striker but he has had an unusually good year and still isn't at the level to do that constantly. Keisuke Honda, on the other hand, has made truly extraordinary progress. I feel his emergence has the same kind of significance for Japanese football as Hidetoshi Nakata's. I am looking forward enormously to seeing how Honda grows. I was astonished by his improvement when I called him up after a long while.
What does this World Cup mean for Japan?
We were at home in 2002, so we didn't have a top seed in our group. I think we soon have to start producing results away in a normal World Cup. 1998 was our first time, so it was OK. We were a bit stronger in 2006, still not quite there but at any rate put up a fight. This time, we have to get a result.
What is your aim for Japan in South Africa?
I talked of reaching the last four, but it has mostly served its purpose now. It was vital for everyone to train every day with the highest possible motivation. The goal remains the same but the issue now is to win one game at a time. As for satisfaction, I do at least want to reach the last 16 or last eight, but also to show what we can do, not just defend grimly and win by a lucky goal.
And would you be up for a third World Cup?
No, I'll be leaving football after this.
What do you want to do when you leave the game?
Be a farmer. When it rains, I'll read a book, and when it's fine, I'll work on the farm.