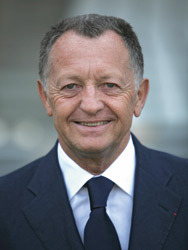 World Soccer: How do you feel about being the chairman who presided over the winding up of G-14?
Jean-Michel Aulas: It was a delicate business. I did not want to be thought of afterwards as some sort of traitor but I think that, with the understanding and assistance of Michel Platini – whom I always supported, incidentally, to be UEFA president – and Sepp Blatter, we have been able to move into a new era. The clubs will now have a more secure platform from which to work within the governance of the international game. That can only be positive for us all.
You must be proud of what you have achieved at Lyon?
Yes, but I will never claim we are masters of the world, because each solution is project-specific.
Meaning?
To my mind, business and sport are complementary. In 1987 I arrived at Lyon to try to restore a club that was then mid-table in the second division. Winning promotion was hard. Our competitors then had more financial resources, so they could create better teams. So we realised we needed a business plan that would help us get the full value out of our own young players and bring in better players. We also knew it would take time, and this is not an easy resource to manage in football because of the pressure from the fans and the media.
Wouldn't it have been easier just to buy in better players?
Not really. Lyon had a tradition of player development, so it made sense to improve it and invest in it so we could attract more sponsors and partners. You can see from the balance sheet how well that has worked. From an annual turnover of £2million some 20 years ago we grew to £160m last year.
So now you can pay top wages?
Salaries are one of the main components of any club's budget but we decided to be sensible and to link this to our financial power. At most clubs the payroll is 60 to 70 per cent of total turnover, sometimes even more. We decided our manpower costs should never exceed 60 per cent of total turnover, so either we must always increase turnover or we must drastically reduce the manpower.
So how did you increase income, apart from attracting more fans by winning matches?
Little by little we brought on board other financially powerful partners. Then we started looking more closely at generating other resources such as IT, a new training centre on land purchased from the municipality. Now we are building a second training centre so we can increase our hiring of young players from abroad, bearing in mind the new UEFA rules about home-developed players. We have 25 senior professional players, and 10 have come through from our training strategy. In fact, a lot of players developed here are to be found in other teams throughout the French League. Sometimes, when we lose a match, we realise the team that has beaten us is drawn almost 100 per cent from players we have trained! So that's a defeat which is also a sort of victory.
And the outcome?
We aimed to improve our image with our success on the pitch, which we have done with 12 or 13 trophies over the past seven years. So we now have more fans coming to the stadium, and that feeds our merchandising strategy. Very early on we recognised the worth of merchandising.
By 2010 we think that 50 per cent of our revenue will come from peripheral products and merchandising. Right now, we generate around £26m turnover every year from this source.
You have attracted criticism in France for following a Premier League-style finance and marketing programme. What's your response?
I always say we prefer not to accept financing from so-called "hidden places" but by financing our operations transparently through the markets. Is this contrary to sporting ethics? No, we think it is a saner and cleaner way to proceed, especially when we realised it was only by going to the stock market that we could raise the money.
What are the cost implications?
Increasing the stadium capacity will cost £150m, with additional associated costs of £115m. It's going to be the largest single project ever in the Lyon region and, we are told, it will create 3,000 jobs in the construction sector. I believe we are leading the way others will realise they have to follow. For example, if France wants to bid to host the European Championship in 2016 then we will have to totally renovate all our existing stadiums.
Presumably, you can not only bring in more fans but also increase ticket prices.
Quite the opposite. We believe increasing our capacity means we can lower the price of tickets. We will have up to 35,000 low-cost seats, so we can broaden our audience and target youngsters and families.
Financing a new stadium and maintaining your present level of playing success will be a difficult balancing act, won't it?
Arsenal have shown it can be done. Of course, one of the benefits they have is the money available to English clubs from television. In France, all the clubs between them earn only about 10 per cent of the money being shared in the Premier League, while Real Madrid make up to four times what we receive at Lyon. The same goes for Barcelona and Milan. In France, we have a culture that believes in equality, a sort of political correctness, which restricts what we can do as an individual club. Lyon, basically, receives the same TV share as the bottom club in the League.
So how can you hope to hold on to top players such as Karim Benzema?
The issue is not about one player, whatever his name may be. I think European football should look at the Spanish model, in which a player's buyout value is written into his contract to deter transfer bids. We must have some solution – for the sake of football in France…and football in Lyon.