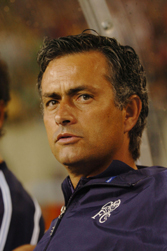 WORLD SOCCER: Has your hair been getting greyer over the past few months?
JOSE MOURINHO: I don't know. When I have it cut short, it's easier to see the greys. I don't think I have changed a lot. I don't feel any more pressure here than I felt before. I enjoy the work, I enjoy every minute of my professional life. When you go to the stadiums, the atmosphere is so beautiful that maybe you don't feel so much the importance of the game. Sometimes in Portugal when you play away from home, the atmosphere is very hostile. So in Latin countries you can feel more of the…
…hatred?
The negative side of football. The negative side of our society. People sometimes go to football and bring to it the negative aspects of our society. In England, when people go to football they just go to think about football. Nothing else. They enjoy every second of the game. In the beginning I was thinking that when you go to a game at Saturday at 12 o'clock, nah, the stadium will be empty. We went to Aston Villa, we arrived at the stadium at 10.30 in the morning, I thought half of the people will be asleep, the other half will be working, nobody will come to the stadium, and the stadium was empty. I went to the dressing-room, I came out for the warm-up at 11.45, the stadium was full. I don't know where they appeared from. So the atmosphere is fantastic, and it takes pressure off you because you also become involved in that spirit. I think the best place to work in football is England.
Did you have a clear idea about how long it would take to impose your ideas on the team?
For me, it was the big question mark. I'll never forget a word I had with Mario Stanic. He left the club but he was with me on the first day, and he said something like: "A lot of people have arrived in England and they just adapt to the English reality of football. But I know that your methods and your philosophy and your way of thinking are very special. Don't ever change, even if it takes time, don't change." I'll never forget what he said. So it was a question for me whether the players could adapt. I followed an Italian manager and it cannot be easy when you follow a manager who thinks very differently.
The pre-season became crucial for me. I analysed the way the players were open for that change. For a start it made me really happy because the players thought from the first moment that they were enjoying our way of working.
When you just work tactically, in pure football sessions, you can see the way they can think football. I could see the players who would become crucial for me because they think football in the same way as me. Not just the two players I brought from Porto, who were a big help in that adaptation, but also players like Makelele, John Terry, Eidur Gudjohnsen.
At the moment I feel we are really a very strong team defensively. I don't say we are a defensive team. I say we are a strong team in defensive terms, but at the same time lacking sufficient fluidity in attack because that will take time to come. But we still are playing very good football at times. The only thing I would like is to have more control of the game in terms of possession. In five years I have never had a match where my team has had less possession than the opponents. Never, never. We could play Real Madrid, we could play Deportivo La Coruna, even Manchester United; we always had a bigger percentage. So we could have more possession, and again that takes time. But the team is going in the right direction.
Do media accusations that Chelsea are defensive worry you?
No, it doesn't worry me in the sense that I get influenced by that or that I am being pushed to change my mind. No. No chance. And is the team being influenced by that? No chance. The team is completely close. Anything you say outside, there is no chance it will go inside. So the team is
really strong and compact. We know what we want and how to achieve it on the pitch. For me, no problem; for the team, no problem.
The only thing that we cannot control is our supporters. Can you imagine, for example, one day we play at home, we are winning 1-0, our opponents are playing better than us – it happens sometimes! – and the supporters, instead of getting behind us, are influenced by what they read every day or by what they hear every day from television reports, and so maybe they go the other way. Especially when you play at home, you need a good atmosphere behind you. But it doesn't matter so much what the press write about us.
Do you really believe that in England the fans turn on the team? It's not something that English fans do generally, compared with Latin fans.
Yeah, normally they are behind the team, they are faithful. I think they understand now what the team can give them, and I think they understand that we are in good shape. But I always feel that one day we will score the goals that we are not scoring now – and we will concede the goals that we are not conceding now. So if one day the result becomes 3-3, for me it doesn't change my mind, because it's football, it's normal. What is not normal is that we haven't been scoring enough goals playing such good football as we've been playing in the last few weeks. But it's also not normal that we have conceded only one goal in our first eight League matches.
But in Europe you are scoring more goals. Why is that?
In Paris we had probably five chances, and scored three goals. I think it happens, it just happens. Against Paris Saint-Germain we had control of the game, although it was really tight, but it seemed almost every time we had a chance, we scored. Yet take the game against Liverpool, for example. Frank Lampard had four clear chances to score, all in the first half, and he couldn't take even one of them. So it's a question of moments, but I'm not so worried about that. I'm more worried because Didier Drogba is injured.
The Premiership's three new foreign coaches – you, Benitez and Santini – seem to have upset the media with your style of football.
For a start they should think one thing. In the Premiership there are 20 managers. Only three have won European trophies. Only three, not 20, three: Sir Alex [Ferguson], Mourinho and Benitez. So when they have Mourinho and Benitez joining the Premiership they should say it's good for us, maybe these guys have something new to give. At the very least it brings prestige to the Premiership because foreign managers could choose between Spain, Italy, France and every country in the world but they choose England. At the very least we should be given a bit of credit and a little bit of space, and maybe the media should think we could help them discover why English teams do not win European competitions.
After three months here, can you provide an answer?
I give that answer in my dressing-room because I want to transform my team into a winning team. I don't know if it's possible because when you look at the Champions League you can see 10 candidates: Milan, Inter, Juventus, Real Madrid, Barcelona, Bayern Munich, Chelsea, Man United, Arsenal, Porto. So even if you are a strong side, maybe you don't win.
In general terms we must think more about our football and not play by instinct. And I think because of the passion of every English player and every English supporter, and every English journalist for the game, most of the game is played with passion, love for football and instinct, but in football you also have to think. When you play another team with the same qualities as you normally the best one wins. But when you play against other people and other teams who can think football and can stop during the game and think collectively and don't play by instinct, it becomes much more difficult. You see how Spanish, Italians, Portuguese play football. I don't say they are perfect, I say English football has a few things to learn from them in the same way they have a lot of things to learn from English football. I feel I have a lot to learn from English football and I am completely open to good influences in my way of thinking football. But I also have things to give them. At the moment, the lines of communication between me and my players are wide open and the intention is to improve the whole team by each one of us giving the best we have to give. I believe it can make us a strong team. I cannot say we will win the Champions League or the Premiership, I don't know. But what I do know is that we can do it.
What's missing at a club like Real Madrid at the moment?
The only thing I can see from outside is that there is a hole in the squad. They have a group of stars and they have a group of young boys who are not ready to cope with that pressure and that quality. What is missing is what I call low-profile players. For example, in my team I love to have Geremi on the bench because he's a low-profile player who is ready to help, ready to fight for the team, ready to do the job I want him to do. If I need him to play right-back, he can play right-back. If I need him to play right-winger, he can play right-winger. If I need him to pick up a man and mark him out of the game, he does it. And you look to Milan, it's the same story. You have the main XI, but after that you can find Ambrosini, you know Kaladze is there,
and Tomasson too. They have a group of second-line players to give support.
You go to Real Madrid and you find lots of attacking stars – Owen, Ronaldo, Morientes, Raul and so on – and after that you have two central defenders, you have only Michel Salgado for the right-hand side, you have only Helguera for the defensive midfield player and you don't feel that is right for the whole season. That's easy to see from the outside. What I can't answer is – are they committed? Do they have enough motivation? Do they think football all the time or are they training but thinking about something they have to do after lunch? You can only find out by working with them.
Some English people seem to be fascinated by the galacticos. There were approaches to Roberto Carlos, to Ronaldo. Have you said to Mr Abramovich, we don't want that any more?
Yes, I told him. On the first day. But I tried to explain why. I think the message got through and now everybody in the club knows why I prefer Paulo Ferreira instead of somebody else, why I prefer Drogba instead of somebody…
Fernando Torres? People talk about him moving to Chelsea…
Fernando Torres is a young boy. He is expensive, so therefore he can only be connected with Chelsea! It all depends on the concept of a galactico. Who is a galactico? Is he a famous guy with a lot of money, a lot of prestige? Or is he a player who can play 60 matches a season, putting in consistent performances?
But is it understandable that Mr Abramovich, having spent a lot of money on the club, wants to sign star names?
He wants to win, and I try to explain to him my philosophy about making a winning team. It's very difficult to win for the first time, very difficult. Look at the way teams play against Arsenal. They don't believe they can win. They don't believe. People talk about a fantastic goal by Thierry Henry. For me he has fantastic skill but I have to say it is ridiculous. They don't believe, but against Chelsea they believe. Against Man United, they believe, because over the last few years Man United have not been the same. So just on this point, winning for the first time is very difficult, very difficult. They respect Arsenal. I felt the same thing in Porto, especially in domestic competitions.
But at Porto, you only had a few stars. At Chelsea, it's different…
But they were big stars in Portuguese football. The dimension is different. For Portuguese football, they were stars. But we could feel it on the pitch, people wanted to beat us. Arsenal have won that advantage, nobody gave it to them. By playing fantastic football and by winning matches and by winning trophies, they won that respect that the opponent has for them. But they go into Europe and it is not the same story. PSV play against Arsenal at Highbury, and they don't have the same sort of respect another English team would have, they believe they can win. Arsenal found it pretty much the same when they played against Rosenborg in Norway.
Chelsea are trying to grow very quickly. Do you feel the pressure to contribute to the growth of the club interfering with your work?
No. It was one of the reasons I wanted to join. In my first conversations with Chelsea, the most crucial one I had was with [chief executive] Peter Kenyon because he's completely focused on the Chelsea brand and making them one of the best clubs in the world. That makes me want to be part of that project, and then I think everything becomes important. You can have the top stars to bring the attention, you can have the best stadium, you can have the best facilities, you can have the most beautiful project in terms of marketing and all this kind of thing. But if you don't win…All the work these people are doing is forgotten.
You have to win and especially, as I have, you have to win a trophy for the first time. Chelsea needs to grow up in all the different areas and is doing that. The new training centre will be fantastic, the work the club is doing in terms of merchandising is fantastic. The way Mr Abramovich is ready to help the team in all the areas where you need big financial investment. But our role, mine and the players, in terms of achieving football success, becomes the nucleus of that.
How much day-to-day interest does Mr Abramovich take in the team?
He has his private and professional life. Of course, he is not able to be here every day but there was one thing that I wanted him to know: he is always welcome. I always feel that with a president, an owner – it depends on the structure of the club and the country – the players generally like to see him. For me it is not a problem. When he comes here, he is not coming to interfere with my work. He just comes to give his faith, to give his support, to communicate with people. The reason I was a little late for our meeting was that I spent an hour and a half with him and Mr Kenyon in talks about the club. That's absolutely normal.
So he's very present in the club?
He's always present. He's committed. Of course, he knows what Peter Kenyon is doing, he knows what I am doing and he doesn't need to be worried about training players or the club organisation, Peter Kenyon does that. Abramovich is a top man.
Your career has so far been very successful. How do you think you will react when you have difficulties, because it happens to every coach?
Sure, but I know football very well. I was nine or 10 years old and my father was sacked on Christmas Day. He was a manager, the results had not been good, he lost a game on December 22 or 23. On Christmas Day, the telephone rang and he was sacked in the middle of our lunch. So I know all about the ups and downs of football, I know that one day I will be sacked. I know that one day the results will not be good. But I think it's more normal for my team to have no success than it is to win two consecutive European cups.
Who would be your choice for player of the year for 2004?
It's difficult, you know. Because normally the best player is always connected with something big. Who did something big this year? Greece and Porto. Deco got it from UEFA, the best player of the Champions League. From the European Championship, I don't know but maybe the Greek captain, Zagorakis. I don't think it's an easy award to give. Maybe Thierry Henry for what he did in England, Frank Lampard for what he did both here and in Europe. But I always think of Shevchenko, maybe because he plays in the most difficult country for attacking players; I think Shevchenko is doing a fantastic job in Italy.
In some press conferences, you often speak out against other coaches. Is it a message more for your dressing room – that they don't have to fear anyone?
It depends. Facing the press is not easy, but because you have to go, you have to try to take a lot of positive things for yourself from these face-to-face meetings. When I go I have to be or try to be ready for questions and I try to have some messages that I want to pass on. For example, after the last game [against Liverpool] I could guess how the questions would go. Joe Cole scored the goal, Joe Cole goes to the national team, Joe Cole is not playing for Chelsea, Joe Cole is not playing for England, he scored the winning goal, he was on the bench, he was the hero, and I could guess they wanted to put Joe Cole on the moon. So I went there and I was thinking if they want to put him on the dark side I have to push him up. If they want to put him on the moon, I have to kick him. So, because he got all the plaudits from the press, I had to kick him a little bit.
So behind your arrogance is a clever thinker?
I don't know. I don't think I'm arrogant.
But if you play chess with the media…
When I face the media, maybe I don't feel it now, here with you, because it's a different sort of interview, but when I face the media before or after the game, I feel it as part of the game. When I go to the press conference before the game, in my mind the game has already started. And when I go to the press conference after the game, the game has not finished yet. Or if that game has finished, the next one has already started. So I'm not there to be what you want me to be, or what people are waiting for me to say. It would be much easier, and Joe Cole would be much happier, if I go there and say of course Joe Cole was amazing and so on. But I need Joe Cole to give me more, so I didn't go there to be part of your movie. My movie is another one. But I don't feel I am arrogant. Sometimes I can be or I can show it, but it's not really my personality.
What went wrong with Luigi Del Neri at Porto?
In the same way that I had to follow an Italian manager here, I can imagine that it was not easy for an Italian manager to follow me at Porto. We have completely different concepts of training. For example, at Chelsea, with Mr Sassi [Claudio Ranieri's fitness coach] the way they used to develop an aerobic condition was putting players through 12 sprints of 100 metres each. The way I use to develop an aerobic condition
is three against three, man to man, in a square 20 metres by 20. It's completely different, and I can imagine it was the same for Mr Del Neri. The Porto players were with me for two and a half years, they believed in me, in my methods, in the way we do it. The next day I go and a manager arrives who works completely differently. So you can see the problem.