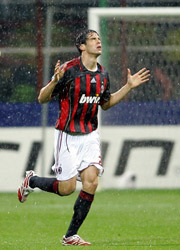 World Soccer: This season has been difficult for Milan, hasn't it?
Fortune has not really been on our side. I don't particularly believe in the theory that we are suffering from post-World Cup fatigue. I feel good at the moment. I'm in top condition.
Playing every three days can cause difficulties but it's the same for all the top sides. The important thing is not to lose your nerve and play your way out of a poor run. That's what we've been doing. Since the turn of the year, our results have improved markedly and we're looking much more like our old selves in both Serie A and in Europe. Milan is a club for winners. We've proved it in the past and will do so again. In individual and collective terms, Milan can be a match for anyone.
How do you feel about Milan reaching the Champions League quarter-finals?
I don't think enough has been made of the fact that Milan are the only quarter-finalists from last year's Champions League still standing this season. We should be proud of our consistency at this high level. Even in a tough season for us, we have found the force of character to make progress in Europe. Why have lots of top teams gone out of the Champions League this term? It's simply because the competition is fiercer. Any team, on their day, can make life difficult for one of the supposedly bigger names. You have to be constantly on your guard, whether facing top clubs or those with less prestige. It's the same in Serie A. Smaller teams have become tougher nuts to crack. They put lots of players behind the ball and it's hard to break them down.
What do you see as your role at Milan?
When I first came to Milan in 2003, my aim was to combine Brazilian flair with European tactical rigour, and I hope I've succeeded in achieving it.
How do you get on with the coach, Carlo Ancelotti?
I've a special relationship with him. We can have different opinions sometimes but underlying everything is a great mutual respect.
How has the arrival of Ronaldo changed things?
It has done us a lot of good. He's a striker who can decide a game at any moment and still has much to offer. Of course, the fact that there are Brazilians at Milan played a part in his decision to come here. But much more important in his choice was his familiarity with the city of Milan and his desire to remain in football at the very highest level. It's hard for me to talk about Ronaldo. I was a fan of his as a kid and dreamed of playing like him one day. Now I've the chance to play regularly with this legend.
Do you think Ronaldinho will join the Brazilian clan at Milan?
He knows he'll be made welcome. I really enjoy playing with him, Fred and Robinho in a four-man attack for Brazil. This formula can work well for any team, even in Italy. The crucial factor is that all the attackers are prepared to make sacrifices. If there's a good collective spirit, I don't see a problem.
Have you tried to persuade Ronaldinho to join?
During a recent training camp with Brazil I was telling Ronaldinho every day that he should come and join us, but unfortunately my efforts were being countered by [Internazionale keeper] Julio Cesar, who kept telling him that he should stay at Barcelona because the weather in Milan is not so good and we don't have the sea there.
Where do you think you'll be next season?
I hope I'll still be with Milan. This is one of the premier clubs in the world and from the first moment I entered their Milanello training complex I was aware that I had joined a very special club. This is a club used to winning, where people demand results. But only God knows what my future holds.