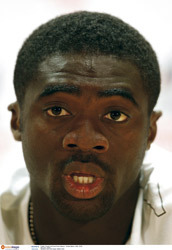 World Soccer: The timing of the Nations Cup often raises club v country problems. Have you discussed this with your boss at Arsenal?
Kolo Toure: I think Mr Wenger knows that when the call for the national team comes, there is nothing else I can do. It comes from my heart, I can't say that I will not go, it is just not possible. I know the timing of the event is difficult for the clubs, but this is out of the players' hands.
Are you looking forward to teaming up with your brother Yaya at the Nations Cup?
It will be fantastic to play with him. He's doing really well at Barcelona and hopefully we can win something together. Our group is tough and there are so many good teams from the continent now that the whole competition will be tight. But we believe in ourselves. Two years ago we lost in the Final; hopefully, we can go the whole way this time.
Ivory Coast has been in the grip of a civil war in recent years, and recently the national team have played matches in the north of the country, the rebels' stronghold, to try to help unite the nation. Has this had the desired effect?
Definitely. Football has really saved the country. There have been difficult times in Ivory Coast, but when we play it helps to bring the country together. It is the one thing that can produce this mutual love of the country – football is really amazing like that, that it can change the life of a nation, and we are really proud about our role in this.
You came through the renowned academy in the Ivorian capital, Abidjan. How did its facilities compare to those at Arsenal?
It's really dry back in Africa so the pitches are quite different. But I feel very lucky to have been part of the academy, because for Africa, the facilities were very good.
Was the academy a good grounding for the professional game?
We learned football well, and I think there's a lot of proof of that. Apart from me, there are others in Europe who came from the academy, such as my brother and Didier Zokora at Tottenham. It formed me a lot as a player, and as an adult. After I was spotted playing in my home town I was picked up by the academy, where I stayed for five years, attending five days a week. It wasn't just football, we went to school there as well. Everything was given to us, we didn't have to pay for anything, which was fantastic.
Arsene Wenger brought you to Arsenal from Belgian club Beveren in 2002. How has it been playing under him?
Mr Wenger shows great faith in the players he brings to the club. It is not always easy for a player from Africa to come in to a big team like Arsenal and be good straight away. I have tried to repay him by giving everything to show him that he wasn't wrong to believe in me.
You were an attacking midfielder when you joined Arsenal. How did you come to be a first-choice central defender?
I couldn't score goals! I was trained to play in every position when I was at the Abidjan academy – that's how they help make you a good footballer. I started in midfield, first with a more attacking role, then I was moved back to being a more defensive midfielder because I was missing too many goalscoring chances. But I enjoyed defending the most, and I think Mr Wenger saw my qualities in that role. However, when I first joined Arsenal I was competing with fantastic players like Tony Adams, Martin Keown and Sol Campbell – so I had to be patient. I'm playing in my strongest position now, though.
You are now Arsenal's longest-serving player. How does that make you feel?
Really proud. But even having been at the club this long you can't afford to relax for a minute because there are a lot of good players competing for places.
Arsenal had just won the league and cup Double when you arrived five years ago. How does that side compare to the current one?
We had great, great players with a great mentality in 2002, and they all helped me develop. But there is a good feeling with this side as well, because we have so many young talented players. Nobody expected us to be where we are this season [at the top of the Premier League], but there is a strong feeling of togetherness. This team can definitely achieve something. But it will be difficult because there are some big, big teams out there who want to knock us off the top.
Do you feel that everything at Arsenal is set up for them to be one of the world's best teams?
Definitely, we have everything we need, but we are still adapting to having it. I think one of the reasons we struggled at times last season was because it was our first playing at the Emirates. This season we are more used to the surroundings. The whole set-up is great here and it makes you feel like Arsenal is the place to be. Everyone here loves football, and that's really important.
Togo didn't qualify, so Emmanuel Adebayor will be staying at Arsenal while you're in Ghana. Have you spoken to him about this?
He is really disappointed, and it's a shame because I believe he is one of the best African players at the moment. Togo's time will come, though, because they are a good footballing country. In two to four years, when they have more players at European clubs, they will be stronger. I will call him when I'm over there and tell him about the atmosphere, but I think that might upset him even more!