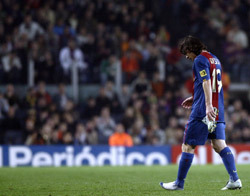 World Soccer: Barcelona promoted you to the first-team squad after your success at the 2005 World Youth Cup. Was it a help or a hindrance to suddenly find yourself playing alongside stars such as Ronaldinho and Samuel Eto'o?
Certainly not a hindrance! Quite the opposite. Also, the help and encouragement of all my team-mates – Roni and Samuel, but not only those two – has been brilliant. But this was not only the case in the first few weeks, it continues even now. No footballer should ever think he knows everything because he is fortunate enough to win some trophies. Football is a team game – and I learn all the time from my team-mates. This is the spirit that fills the dressing room and helps us win game after game. I have to laugh when I read stories in the media about squabbles among the players. How could we be as successful as we are if we were not united?
Why Barcelona, and why so young?
This is perfectly simple and even obvious once you know the background. I was 13 years old when they approached me and my family in Argentina and said they believed so much in my potential as a footballer that they wanted me to transfer to Europe – not just myself, but also all my family. You see, this was not merely a simple transfer of one player changing shirts or changing cities or even changing countries. It was a huge gesture of belief in a boy that involved his entire family.
Is it true that even before you moved to Spain you had started taking a growth hormone prescribed by the Barcelona medical staff?
Yes, this is perfectly true but not unusual. I was not big for my age and it's well known that such treatment can be prescribed quite properly for children who are below average height and weight. I am not the only player who has benefited. I think you will find that Zico was also helped in this same manner when he was a young teenager. At all stages Barcelona oversaw the dosage.
This helped my confidence, too. I learned that it was possible to play and hold my own even in games in which all the opposing players were head and shoulders taller than me. Football is not only a game of skill and mental agility but also one of physique.

It seems surprising to observers that you have not found it easy to gain confidence in your own ability – even though one of your most outspoken public supporters has been Diego Maradona. Can you explain that?
Maradona has been very kind with the comments he has made about me and the way I play. But he was a unique footballer. No one else has managed to do the things he did with a football. So while I am grateful for his support and confidence, I know I am never going to reach his level. There is no connection.
Was the amazing atmosphere at Liverpool, created by their fans, one of the reasons Barca were eliminated from the Champions League?
Atmosphere does not score goals. I was barely aware of the crowd when we lined up before the game. Once I cross the white line and go out on to the pitch I shut out everything except my focus on the ball and the game. It was massively disappointing to lose to Liverpool because we were proud to be champions of Europe. But I am confident we will get our crown back.
And that is not all. We can win both the Spanish League and Cup this season,
and that would make this another great campaign for us.
Do you have any regrets about the World Cup, about losing on penalties to Germany?
You always have regrets after you lose a game but, for me, the bigger picture was that I had played in my first World Cup finals at the age of 18 and scored a goal – and to go out to the hosts is never something to be ashamed of. In fact, I am confident we would have beaten Italy in the semi-finals if we had gone through…but that was not to be. Next time, maybe!
How do you feel about having been sent off in your first senior international for Argentina?
It wasn't the way I dreamed the game would be! I just went past [Hungarian Vilmos] Vanczak and he grabbed my shirt. I wanted to free myself so I could carry on, and the referee judged that I had elbowed him and sent me off.
Your success has prompted speculation about a move to Italy, England or even Real Madrid. Is there any substance to any of this?
None whatsoever. I have grown tired of being asked the same question. In fact, I now tell journalists before interviews that this is a question not worthy of an answer. I am proud to play for Barcelona; this has been the only club of my professional career and the only club in my mind and my heart. There is nothing else to say.
What did the hat-trick against Real Madrid mean to you personally, never mind its importance to your club?
It was important to me for three reasons. The first is that it brought us a point against Madrid in a very big game. The second was that it helped me prove to myself that I can play a top role in a big match. The third is that in the past two seasons in which I have been in the first-team squad I know myself that I have not been scoring enough goals – and that was strange because at youth level I was always one of the top scorers, both with Barcelona and Argentina. I have never been an out-and-out striker but I have always tried to attack goal as often as possible. Against Madrid, I proved to myself that I can be confident of my ability to score goals in the most important games.
It was a great moment for me when, at the end of the game, the first player to congratulate me was Raul, because he has always been one of my heroes.
Interview by Keir Radnedge