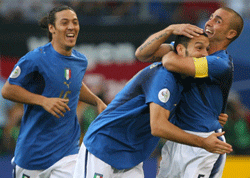 World Soccer: How important is winning the Golden Shoe to you?
It is the award for scoring the most goals, but my team-mates gave me the opportunity to do what I am good at. This is a prestigious trophy and it is particularly special to me because I am the
first Italian to win it.
Is it also important for Fiorentina?
Absolutely. Fiorentina are not as famous or as big as clubs such as Juventus, Inter, Milan and Roma. It is nice that a player from a smaller club should win this award. The club are proud of me and they show that. Fiorentina have had some difficult years and because of the [match-fixing] scandal the future is not clear either. But this award gives the club back their dignity.
Did you ever think about winning the Golden Shoe during last season?
Not during matches, but I saw the rankings towards the end of the season and I knew I had a chance to win it. If you get that close, then you want to take it. Also, the people at the club and the people around me were talking about it more and more.
Can you win it again this season?
It will be very difficult, though I'll be trying my hardest. But I certainly don't believe I'll win the Golden Shoe and the World Cup in the same season again.
How do you feel about Fiorentina's match-fixing punishment, having 15 points docked?
It has given us a whole new goal for the season. Instead of playing for a Champions League spot we must concentrate on ensuring our Serie A survival as soon as possible.
Has the fact that you have had a minus points tally for many weeks had a psychological effect?
Yes, I think so, because it has made us more conscious that we are in danger of being relegated. But we have had to deal with it, and the best way to do that is to get results.
Who are your favourites for the Serie A title?
Inter have a good team. They have the best players in Italy, and you can beat them only by playing as a team and with energy. Roma are also candidates because they have players who can win games. Milan do not look like being contenders at the moment because of their points deduction.
You haven't played in the Champions League yet. Will you do it with Fiorentina?
Fiorentina won a Champions League spot last season but our points deduction meant we no longer qualified to take part. It was a big disappointment for me, but I do want to be in the Champions League with this club.
There have been rumours that you will leave for a bigger club in January.
I know, but I can't do much about them. Inter wanted me [in the summer] and I really thought about going, but I stayed with Fiorentina. And I won't leave in January. I decided to continue with Fiorentina and, in my opinion, that means that I play in Florence for the whole season. I have a contract and I want to have success with the club. As for next summer, we'll have to wait and see. I have learned to take things season by season.
Why did you miss Italy's first two Euro 2008 qualifiers, against Lithuania and France?
The coach [Roberto Donadoni] called me and we decided that I wouldn't play. I was simply not in the right condition to play a full part for the team.
Who was your idol as a striker?
Marco Van Basten. He was one of the best strikers I ever saw. I come from Modena and followed the Modena club, but Van Basten was great at Milan. He scored a lot of goals, and I wanted to do the same. It is really such a pity that he had to quit so early because of an ankle injury.
What do you think of the fact that Ruud Van Nistelrooy is not in the Holland squad any more?
It seems strange to me. He played with Manchester United and now Real Madrid – I think that says enough about his qualities. I don't know Van Basten's reasons, but I like him more as a
player than as a coach.
There was a moment that you wanted to quit football. Now you are the top scorer in Europe. How is that possible?
I was in Serie C, had a fight with my coach, was playing very badly and then broke a knee.
That was when I wanted to quit. But I didn't and tried to fight back. I didn't give up. The result is that I got my breakthrough at an older age than normal. I believe that everybody gets what he deserves. So I feel I deserved this. I hope I can be an example to a lot of other players. If you had told me 10 years ago that I would win the Golden Shoe and become a world champion, I'd have called somebody to lock you up.
Interview by Chris Tempelman & Giampiero Timossi
This interview originally appeared in the December 2006 edition of World Soccer