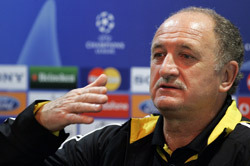 World Soccer:Many people thought it wouldbe difficult for you at Chelsea because you had never coached another club in Europe before? Has is been easier than you expected?
Luiz Felipe Scolari: That's not a big deal – there is not much difference from when I was coach in Brazil. I have always been a club coach and had not coached a national team before 1991 in Kuwait. I was there only for a short time and then I was national coach with Brazil and Portugal. But I know the club game very well because I worked for 20 years as a coach in Brazil. And clubs in Brazil, in Saudi Arabia, in Africa or any other country, are the same.
You already said all competitions are important but if you had only one choice, which one would go for: The Premier League or the Champions League?
I don't have this choice. I have to think we want to win all the competitions. My players need to think they can win all competitions and dedicate themselves to do that, focusing their minds for the game that they are playing and not thinking about the other competitions. We have to try to get as far we can in all of them.
And what about Liverpool and Arsenal and Manchester United – especially with their long-serving managers?
They know English football very well, more than me and they know the clubs. It is important the support I receive from my assistant Ray Wilkins. He helps me sometimes with information about names, about stadiums, about people, about the history for the clubs, about the history of the players. Maybe in three or four months, I will know very well all the players in England. But that's in the future.
The managers of Liverpool, Arsenal and Man United are here for many years – more than 20 in the case of Alex Ferguson – but I learn everyday about English football and I want to win in England. If I want to win, maybe in the future I will be better.
You must agree that, so far, you are learning really quickly?
Maybe…
How do you compare Brazilian players you have coached with England internationals at Chelsea, especially John Terry?
Some have John Terry's spirit but many players sometimes worry too much about being professionals and preserving themselves a lot instead or giving it all to the club, or do their jobs but only up to a limit. John Terry is different and some players at Chelsea are different. Even with pain or another problem that disturbs them, they play, they train, they are professional in a way I have rarely seen in other places. So, that's the main difference.
John Terry is an example as a captain in the same way I always enjoyed being a player. I was captain in teams I played for 16 years in that mould, in that style. I would give it all to my team-mates and to my clubs and at the same time I would also impose some conditions – and that's John Terry. I think that's why Capello chose him as England captain because he sees in him the same image I now have of him.
Do you regret not winning titles with Portugal after finishing second at Euro 2004 and fourth in 2006 World Cup?
Yes, I regret it. It would have been the most fantastic achievement of my life because I would have been a coach who would have won the World Cup followed by a Euro and nobody has done that before. We did our best but on that day [Euro 2004 Final] Greece played well and had a bit of luck. Sometimes we say this doesn't exist in football but anyway they had a bit of luck and we did not make it into first place.
That does not mean it was not a good campaign, it was spectacular for me and for Portugal. It was a great time because it followed my move from Brazil to Europe to be in charge of nation who hadn't qualified for the 2002 World Cup. But Portugal made great progress in the five years I was there.
Why do Brazilian coaches not enjoy the same success as players? We only have Zico in Uzbekistan and a few others.
I would say to you that is because the idea people have in Europe that it is very easy to be coach in Brazil. I say it is not that easy, actually it is much more difficult. You have to choose between many more options. So, it is more difficult.
There you have 400 to pick 20, here you have 40?
That's it, so you need more quality in the way you chose it, you need to be right in your selection. I also think that sometimes managers who have come to Europe can achieve the results demanded but there is no follow-up. Some of them also come here with the idea to stay two, three years, four years, to earn some good salary and then go back to Brazil.
I thought about coming, staying, winning and having my name known in Europe. Only when I finish my career as a football coach do I want to go back to Brazil. I don't miss anything that I don't have in Brazil. I adapted perfectly, my family is also totally adapted. So, you also need this attitude – and you should not worry that in Brazil it is warmer, there is the beach, etc. There are things here which are also interesting.
How do you see Brazil's campaign for 2010 and what's missing for Dunga to introduce a more efficient and attractive style?
I say that for Brazil to be more attractive and efficient, it only needs two or three matches to seal qualification. After that, things will happen more naturally and that's the way it was with me. Up to the last qualifying match, things were difficult but after that we adapted better because all of the following games were friendlies, which were good for experimenting.
So, from that time on we had a situation where I could demand more from the players; I could do what I wanted because qualification was guaranteed. I could say certain things and whoever did not follow or respond, I would put aside. I think that's what Dunga will naturally do.