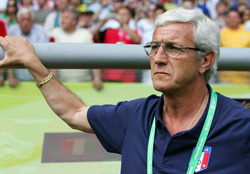 World Soccer: What conclusions, if any, did you draw from Italy's 2-0 defeat by Marcello Lippi: Brazil in February's friendly at the Emirates Stadium in London?
Of course, I didn't want to lose that game but, in the end, given the way the result came about, you can draw a number of conclusions. First, I'm not sure how things would have worked out if our opening goal [by Fabio Grosso], which was a good goal, had been allowed to stand. It would have been a big blast of confidence for some of
our younger players.
After that we had 20 minutes of real class, charisma and personality from Brazil. They were playing against the world champions and wanted to show how good they are.
Then we did better in the second half when Julio Cesar had to bring off a few really good saves. Given the way the match went, the result could have been different. The most unpleasant thing for us was that first-half period when Brazil gave the impression of being much surer of themselves and more up for it. But I blame that on the fact that I played a number of guys, such as [Simone] Pepe and [Riccardo] Montolivo, who are not accustomed to games of that level.
So, was this merely a hiccup on the road to South Africa?
At the moment I am only six months into the rebuilding phase. If you remember, last time around we met sides like this. We played Holland and Germany only after 18 months of work together and when we were already qualified for Germany. Maybe Brazil came
a bit too early for us this time.
How have you approached World Cup qualifying? Was there a temptation to just rely on the players who performed for you in Germany in 2006?
No, I would say definitely not. The last time we got together for a qualifier there were only eight or nine survivors from the Germany World Cup squad. I've got to build a team that has the same characteristics as the one that won in 2006. On the first day that I got together with the side last summer I said to the players: "Look, I will always be grateful
to you, you gave me the biggest professional satisfaction of my life, but I cannot run a team on debts of gratitude."
So far we're going well but you can take nothing for granted. It's not that we're doing badly in our qualifying group, it's rather that there is another team which is doing very well: Ireland. You can take nothing for granted. In the meantime. I've got to be careful not to offload players who in 18 months time might seem too old but who can still do a job for me now.
Can one see the hand of Giovanni Trapattoni already at work in this new Republic of Ireland?
You can see the hand, the foot and the head of "Il Trap" at work in this side. They are a team full of enthusiasm, a team with some very good players, guys like [Aiden] McGeady and [Damien] Duff on the flanks. This is a side full of physically strong players, like the centre-forward [Kevin] Doyle. All in all, this is a good side that merits plenty of respect.
What do you make of the fact that one of Italy's World Cup opponents is coached by an Italian?
For so long the Anglo-Saxon world has looked down its nose at Italian football and tended to jeer us and yet, just look, the current coach of England is an Italian while you have Trapattoni in Ireland. I think that speaks for itself and answers your question.
At this point, who are the favourites for South Africa?
You can round up the usual suspects: Italy, Spain, France, Germany, England and Argentina, and Brazil, of course. These are the sides that go there to win, that can realistically hope to win.
What are you expecting when Italy take part in the Confederations Cup in South Africa in June?
Whoever wins the Confederations Cup never goes on to win the World Cup so I don't know how much people want to win it. I will take all my most important players, at least those who aren't injured. After all this has been a difficult year for us with a lot of injuries, such as [Gianluigi] Buffon, [Andrea] Pirlo, [Mauro] Camoranesi, [Gennaro] Gattuso. Of course, I'm very curious to see South Africa.
Do you still think resignation after winning the World Cup was the right thing to do?
Within a month of leaving the national team I was saying to myself: "What a balls-up!" I did it for personal reasons [the involvement of his son Davide in the Calciopoli match-fixing investigation]. However, I had two very interesting years away from football. I visited 26 Italian universities, went to talk to 40 major firms and had lots of meetings with other football federations.
People saw my team as an example of how a group of people, in a moment of great difficulty, were able to come together, unite and achieve something. Mind you, let's be clear about it, too, the group that won the World Cup contains some great players – [Fabio] Cannavaro, Pirlo, [Gianluca] Zambrotta, Buffon, Gattuso, [Francesco] Totti, [Alessandro] Del Piero, Camoranesi. This was a team not just of great quality, but above all very united.
How do you evaluate the performances of Italian teams in Europe this year?
There was a lot of talk about an Anglo-Italian clash in the Champions League but, in reality, Chelsea, Manchester United, Arsenal and Liverpool, they are not an expression of English football. They are the expression of a globalised football in which, from the owners down to the coaches and the players, there are almost no Englishmen involved. These are globalised clubs that bear famous English names. For that reason, I don't call these games an Anglo-Italian clash. The real expression of a country's football style these days is the national team, not the clubs which are full of foreigners.
The impact of this globalised football world is that there is no longer an English or Brazilian or Italian style. The Brazilians are much more concrete today, we Italians don't play a catenaccio-style game anymore, and that is part of the evolution of football brought about by the continuous migration of players and managers.
One very special "migrant", David Beckham, has joined the Italian ranks this year. How do you rate him?
He has proved himself to be a real professional, far removed from the image
of him that some people might want to put about, the image of a guy interested in a thousand different things other than football. That's not true. Since coming to Italy he has made himself much appreciated for the humility and the intelligence with which he has trained and worked for the team. His team-mates and the coach all speak very well of him. Complimenti to Beckham.
In the wake of Calciopoli, can we now say that Italian football is clean?
The problem is that in any work sector there is always something that needs to be sorted out. I've always used the example of a good cheese to make the point. I might have a good pecorino sardo cheese at home, but just because it gets a bit of mould on it I don't throw away the whole cheese; I just scrape the mould off and the rest is still good. The same goes for football. And not just football. Where there is man, there is good and bad, but that is not to say that the small minority of "bad" ruins all the rest.
So, what is the state of Italian football at the moment?
Wherever I went after the World Cup I met with a lot of respect. People have a very high opinion of our football. If you look at our coaches, and I am not just talking about famous names like Trapattoni or [Fabio] Capello but also about second and third division coaches, you find that they are really very well prepared and all over the world football people are aware of this.
But what about the worsening behaviour of Italian fans at matches?
We make a mistake if we think that all the problems with fans are related just to football, are just football's fault. The worst things now happen outside the stadium – the Raciti killing in Catania, the Sandri killing at a motorway cafe in Tuscany, and so on. These things have nothing to do with football. I would say that society in general is getting worse and football reflects that.
Plans, ambitions, other clubs or countries on the horizon after the next World Cup?
Look, I don't know what I'll be doing tomorrow, let alone after the World Cup.