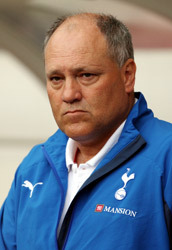 World Soccer: Do you feel under pressure to get Tottenham into a Champions League position this season?
Not at all. If you look at the players we have signed this summer, you will realise we are investing in the future of this club. Younes Kaboul is 21 and he doesn't play for his national side [France], while Gareth Bale is just 18 and he is not ready to play in the first team at a club like Chelsea. Then you have Kevin Boateng, who is another great talent at 20 years of age. So this is not just about this season, but the one after and the one after that.
But does your squad have the ability to finish in the top four?
When I came here, I said I wanted Tottenham to be a top-six team every year, and we are there now, so that's a good level of progress. My job is to develop these players as soon as possible because everyone wants us to be in the Champions League now. You have to realise that the top four have been in place for a decade in England, so it will be difficult to break that. Still, this has to be our aim.
Do you consider Spurs to be part of a "top five" then?
This is the way I prefer to look at things. We are probably the first club people would say when asked to name a top five, apart from the established four. It's important we stay in the top positions, and then anything is possible.
In what areas do your team need to improve?
We conceded more than 50 goals last season, which is too many to get into the top four. Also, we scored only 60 goals, again not enough to be in the top four. Dimitar Berbatov scored only 12 in the League, Robbie Keane 11, Jermain Defoe 10. That's not enough for a striker at a club wanting to be in the top four. So it's simple – we need to score more and concede fewer.
How long will it be before this team reach their peak?
In two years someone like Bale would be good enough for Manchester United, but he will be playing for Tottenham. The same goes for Aaron Lennon; who knows how good he could be? Guys like Berbatov, Keane and [new signing] Darren Bent will still be top players by then, so at that point we will go for the Premier League title. If the players we have here progress as I expect, the sky is the limit.
But your best players could be tempted away before you reach that point.
We lost Michael Carrick to Manchester United last summer because he came to me and said it was his dream move. At that point, I couldn't argue that United were ahead of us, so we let him go for a big fee. I would love to get to the point where players look at the chance to go to United, but think it would be best to stay at Tottenham. Berbatov could play for United right now, Keane is good enough for Liverpool, Lennon could be a success for Chelsea, but they are here and we want them to believe this is their best option.
How important was it to hang on to Berbatov for this season?
It was never an issue. There was a lot of talk about Manchester United, but the chairman would never have sanctioned a move for a player who did so well for us last time. You can see why other clubs might like him, but he is very happy at Tottenham. Our slogan in the dressing room is the team is the star, not Berbatov, Keane or [Paul] Robinson. That is probably what someone like Berbatov likes about this club.
It has been said that the four forwards you have this season form the best strikeforce in England. Do you agree?
Chelsea have quality strikers with Didier Drogba, Andrii Shevchenko and now Claudio Pizarro; Manchester United have some great options, with Wayne Rooney and Carlos Tevez; Liverpool have five strikers this season. So I don't know if our four are the best. I certainly think you need four to challenge for every trophy, so we are covered there now.
How do you fit Berbatov, Keane, Bent and Defoe into your plans?
When you have got players like we have up front, they are not just competing against each other. They will always give 100 per cent all the time, and the competition has to be good for the team. We are hoping to play a lot of matches
this season, and I feel that you need four strikers to cope with that.
Could you start games with three strikers?
It is a nice idea. Bent could play on the right – he has done it in the past – but the trouble may be who will supply the crosses. Maybe you could play two up front and one in the hole, maybe Keane in there, but I haven't had the time to formulate this idea. Maybe if a team is a little below us on quality you could play with three strikers, but not against the likes of Manchester United.
Are transfer prices spinning out of control in England?
This started a couple of years ago when Chelsea paid £24million for Michael Essien and then £30m for Shevchenko. The mark has been set, so we could see this problem coming. We paid £16.5m for Bent this summer and you can question whether anyone can be worth that much. You can say the same about houses in London. I saw a nice place in Regent's Park recently. It was a two-room apartment and it cost £8m. I can't afford that, but this is the market value, so you have to pay it if you want to buy it.
Interview by Kevin Palmer