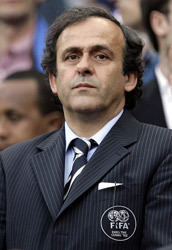 World Soccer: One of the items in your election manifesto was to reduce the number of clubs from England, Italy and Spain in the Champions League. Why?
I want to add some clubs from other countries to the competition, and to do that we have to take something away. It's a question of my philosophy. Are we making a competition to make more and more money? Or are we making a competition where the kids in the Czech Republic can see Wayne Rooney? When I lived in Metz I saw Di Stefano, a big player, in my city. But nowadays, you can forget that.
Are you not worried that television revenue might go down if you have less glamorous teams in the Champions League?
Don't get me wrong, I don't want to disturb the future of the competition. It's a question of balance. I'm not sure that the fourth-placed club in Italy, Spain or England is more important than the champions of great footballing countries such as Denmark, the Czech Republic or Poland.
You could still have the situation, as in this season, where you have three English clubs in the quarter-finals.
It's not about disturbing England, Italy or Spain, but about finding a good balance. My problem is that the two English, Spanish and Italian teams in the final qualifying round do not play against each other, they play against smaller teams. Perhaps the third and fourth team in England could be drawn together, so they don't take the place of a smaller team in the group stage.
Has the romance gone out of the competition?
No. Football can still be beautiful, it is still the most beautiful sport in the world. My glass is half full!
How do you plan to deal with racism?
By being radical. For me, what happened two years ago in Holland, when the referee stopped a game [because there was racist chanting], is the best situation. If the referee on the day decides to stop the game for five minutes, he should stop the game.
Will you be pushing for Europe to host the 2018 World Cup?
Of course, in Belgium and Holland [laughs]. Ah, sorry, we are in England! Of course, as president of UEFA, I will push to have that World Cup in Europe. It's not so democratic to have the competition in Europe every third time when there are six confederations, but I will do my best.
This seems to be the one area where you disagree with Sepp Blatter.
We have already spoken about rotation back to Europe every three World Cups.
But last week he said the opposite.
Ah yes, but next week he'll say something else! No, it is not easy for Mr Blatter to say to everybody that they are beautiful. My job is to push for Europe.
Isn't it hypocritical to push for a World Cup in Europe when you also say that TV markets should not influence a competition?
No, it's not for financial reasons. We have to have the World Cup in Europe. I would like to have the World Cup in Europe every four years, but that will not be possible. We will try to convince people that rotation of the World Cup [so that it comes to Europe] every third time is necessary.
Would you like to see the World Cup and European Championship played more often?
No, I like everything as it is. I'm very traditional. What is scarce is precious.
What about the European Championship increasing in size to 24 countries from 16?
The only thing I can say is that it is too late to do anything for 2008 or 2012, so 2016 would be the first. You can't talk about 24 teams without talking about the qualifiers. If you have 24 teams, it means you can have a straight knockout qualifying round, over two legs, and for the rest of the time you play friendlies. If it is good for the game, good for Europe, good for the leagues, good for the national associations, then we will do it, we are not stupid.
What do you think when you hear Arsene Wenger blaming the French federation for contributing to Thierry Henry's injury problems?
Wenger can say what he wants, but I cannot understand why Henry is injured in March because of a game he played in August.
Is there more pressure on players now than in your day?
No, they don't play more games than I did.
What about the media pressure?
I don't know because I didn't speak to the press! Seriously, there is economic pressure, but most of the time it comes from agents.
How would you describe UEFA's relationship with FIFA?
Mr Blatter knows UEFA now has a leader he can trust. Before, there was a fight between UEFA and FIFA, it was not possible to have agreement. Now we can work together.
Is it important that you are the first former player to be UEFA president?
A big majority of people are happy that an ex-player is president of UEFA. But I'm not president of UEFA, I'm the leader of UEFA. I was elected as president, but I am not a typical president. I'm a leader with a new philosophy. I was elected because I'm a football person, not a committee person.