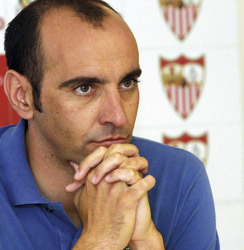 World Soccer:Some people say that Tottenham got the wrong man, that rather than signing Juande Ramos, they should have signed you.
Monchi:No, no. Sevilla's success isn't solely down to Juande Ramos or down to me. Sevilla are run like a business with the best professionals in every department, all of them complementing each other, working with the same philosophy. That philosophy, that model, is laid down by the president, Jose Maria del Nido, and our job is to put his vision into practice – from the coaching staff to the directorate of sport, finance department, press, marketing, everyone. We have a logical, coherent structure in which our roles are mutually beneficial: the whole is greater than the sum of its parts.
But as sporting director, you're the architect of Sevilla's success, the man who has brought in the players.
Evidently, for any club to win titles it needs great players, and their arrival is down to the sporting director and his staff. But for them to succeed they need the right man coaching them. Our roles are complementary, and we have the support of the president. He's never said no to a player, and I've never bought someone the coach doesn't want.
Your role doesn't really exist in England, except perhaps at Spurs. Mostly, coach and sporting director are subsumed within the role of manager. Why the difference?
There are three basic models: one, the presidential model; two, the "Anglo-Saxon" model, where the coach has full power; and three, the mixed model, which we use. No one model is necessarily superior but I think our model is the most logical, although it is vital that there is real co-ordination and mutual understanding between the director of sport and the coach.
That's the catch, though. Rafa Benitez came to England partly because he felt the sporting director-coach partnership didn't work at Valencia. As he put it: "I asked for a lamp and they bought me a sofa."
Exactly. I've always presented Benitez's quote as the perfect example of precisely what you must not do. If the coach tells me he wants a short, mobile left-back, there's no point in me buying him a tall, static right-back.
And what if the coach wants a particular player? For instance, Ramos told World Soccer he specifically asked for Freddie Kanoute.
Well, it wasn't quite like that. We had discussions about what kind of player to buy, and Kanoute fitted the profile. It's vital there's trust and confidence, and if we both happen to like the same player, then great. But I would never buy a specific player solely because the coach likes him – the sporting directorate has to like him, too, he has to fit our model. If the coach suggests a player who we don't have good reports on then we won't sign him. If we did, our model would be the English model.
What's wrong with that?
Well, look at the situation now. If we had done that and Juande left, as he has, we would be left with players that were Juande's players, not necessarily ones that fit the framework we've laid down as a club.
But isn't the risk that you buy a player who never plays? Javier Chevanton was Sevilla's most expensive player, and yet Ramos rarely played him.
But if Chevanton isn't playing, Kone or Kerzhakov or Kanoute or Luis Fabiano is – and they're all my players, too. I don't mind who plays. My job is to provide the coach with the tools he needs; it's up to him which ones he uses.
What are Spurs getting with Ramos?
A very good coach who puts a lot of stress on possession of the ball. A tactical, modern coach who plays with the defence high up the pitch and imposes an asphyxiating pressure on the opposition; one who likes his teams to play at speed. Juande isn't a sophisticated coach: he has a few key – and basic – ideas, but they're very effective.
Will he succeed in England?
I think so. A lot will depend on his adaptation to the game there and his relationship with Damien [Comolli, Spurs' director of football], but he has the skills.
How much of a blow for Sevilla is his departure?
It was quite a hit – especially because of the timing. We didn't have time to deal with the situation in a calm, rational and effective way. What his departure really did was accelerate things. Juande said he was going at the end of the season, and we had planned for Manolo Jimenez to step up, but we had to do that sooner than anticipated.
Does that mean Jimenez isn't ready?
No, it means the process was not as smooth as we would have liked. Manolo has all the qualities necessary to succeed. We have absolute faith in him.
Do you fear Ramos buying Sevilla players?
It's not just Spurs – there's also Chelsea, Juventus…Our players are attractive but Kanoute and Daniel Alves have high buyout clauses; it's hard for any club to afford them.
Sevilla's policy seems to have changed in that sense. You're holding on to players for longer, such as Daniel Alves.
"Selling club" has never been our flag of identity. What we've done is accept offers that are well above the market rate. When Madrid bought Sergio Ramos they paid his buyout clause [£19m]; when they signed Julio Baptista they offered £17m, which we considered too good to refuse. Alves did not go, but the situation was essentially the same: if Chelsea had come back with more money, maybe we would have sold him.
But can you afford to fight off those advances?
Yes, but even when we were struggling financially we acted the same way: I remember Arsenal repeatedly bidding for Jose Antonio Reyes, and we kept saying no until eventually we accepted £15.5m. Players and coaches come and go but Sevilla's philosophy remains the same.