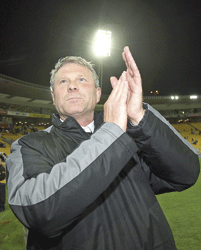 World Soccer: In South Africa you will join an exclusive club, having played and coached at a World Cup. What are your memories of 1982?
Ricki Herbert: I experienced both the highlights of my career and its biggest disappointment in Spain. I was so distraught when left out of the team for our opening game [against Scotland] that I burst into tears on the team bus. However, I regained my place for the matches against Brazil and USSR. Those games were fantastic, exciting experiences. I was very proud to be playing against such great teams at a young age and so fully understand what the tournament means to players. The jersey I exchanged with Socrates is the most cherished memento of my playing days.
Since 2007 you have been coaching Wellington Phoenix in the Australian A-League as well as the All Whites. Is it a good mix?
There are absolutely no negatives in also coaching the Phoenix. You must remember that New Zealand play irregularly. We only had one game in 2005 for instance. It is very important that I retain a day-to-day involvement in order to maintain my coaching skills. The Phoenix job was something of a godsend. Several of their players are All Whites too and it is useful to be involved with them regularly. It is a good recipe.
How big a boost was qualifying for the World Cup?
Absolutely phenomenal and just what New Zealand football needed. It has transformed the game here. It dominated the media for days, everybody is looking forward to the finals and we will enjoy nationwide following.
Have you decided on which system to employ in South Africa?
It is premature to be discussing tactics. Against Bahrain in the play-off we adopted the system we thought best to combat them. It was actually 3-4-3, but in the away leg the two wing backs were required to adopt largely defensive roles, so it may have looked like 5-2-3. For the return they were given greater licence to move up field whenever able. It was a case of horses for courses and that will be the same against Slovakia, Italy and Paraguay.
Pundits seem to agree the best you can hope for is to steal a draw with either Slovakia or Paraguay…
I can understand why we are seen as underdogs, but I disagree with that sentiment. We will respect all the teams we meet in South Africa, but won't fear any of them, including Italy. We genuinely believe we are capable of winning each match. We won't go there to be overawed.
Several of your squad will not have played competitive football for three months by the time the World Cup starts…
That's not a worry. Every player has his own personal fitness programme, which he will be expected to follow religiously. We also have games against Australia, Serbia, Slovenia and Chile before our opening World Cup fixture. It is not an issue and certainly won't be used as an excuse.
How important is Ryan Nelsen to the Kiwi cause?
He's immensely important. Ryan plays at the highest level week in, week out and is an inspirational figure. He enjoys immense respect within the squad and has become a sporting icon in New Zealand, being just as easily recognised here as the more famous All Blacks. He was outstanding against Bahrain. I can't speak too highly of him really.
Who's your money on?
Well, I certainly won't be having a bet. But as for probable winners I would look first to South America. The conditions in South Africa will suit Argentina and Brazil more than the major European contenders and both have extremely powerful squads with no weaknesses. Obviously, Spain have great all round strength too and a fantastic record in recent years.