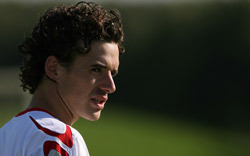 WORLD SOCCER:You're often held up as a model English footballer: talented and articulate without a pop-star lifestyle. Would you agree?
That's for other people to judge. You are a product of your environment and I'm very fortunate to have a great family, who have really supported me and have given me great values along the way. I moved to Germany at a young age and it really helped me grow up. And I've tried to take the best of my experiences from Canada, Germany and England.
You were born in Canada and you play your club football in Germany. Does this "distance" help when you play for England?
The way I grew up was probably different from that of many of the England players, such as Joe Cole, who at an extremely young age was touted as the next Paul Gascoigne. When I was that age, I was delivering newspapers. There are a lot of players who have grown up used to that environment, but I think it depends on the individual and your characteristics.
When you first broke into the Bayern team you were more of an attacking player than you are now. Did you consciously decide to be more defensive?
I have been an attack-minded defensive midfielder – I don't just sit [in front of the back four] because in some games I win a lot of balls and then try to break forward. But I've consciously tried to choose my moments to get forward.
Was it daunting for you as a young player to share a dressing room with big stars such as Steffan Effenberg and Oliver Kahn?
I looked up to those players, though it was different on the pitch – then, everyone's fair game. I was so determined on the pitch and I never backed down from anybody, because that's my nature, I'm very competitive. I think at that time people interpreted it incorrectly. They thought that I was a bit cheeky or arrogant. But off the pitch I didn't really say anything, kept myself to myself and just watched the senior players to see why some were successful and others weren't.
Was it the same when you got into the England squad?
With senior players like Teddy Sheringham and David Seaman, I didn't say anything. But they'd put their arm round me and ask how I was doing. It surprised me because I wasn't accustomed to that in Munich.
Are England more or less attacking under Steve McClaren?
It's nothing to do with the manager. It's the players who are out on the pitch and control the game. We are extremely well-prepared, but the manager can't control what actually happens in a game.
Before the World Cup in Germany it would probably be fair to say England fans hadn't seen the best of you. What about now?
I'm getting better and I'm learning each season. Football at this level is extremely difficult. There are so many games and the next game is always the most important. When you play for a club like Bayern, you're in every competition – Cup, League, Champions League – and then there's the national team. There's never a break, so it's very difficult on the body. But I'm only 26 and there's a lot more to come from me.
Bayern sacked coach Felix Magath in January. Was that the right decision?
We were extremely successful under him but have struggled this season, and any time you struggle at a club like Bayern Munich things will be changed.
Before the winter break Werder Bremen were the darlings of the German media. Did it annoy you that they were getting all the attention?
I don't care about other teams. It doesn't bother me. They've got some great individual players such as Klose and Diego – both fantastic players. I think Diego was the reason Bremen played so well at the beginning of the season. He was immense and he completely dominated the way Bremen played. But now I think teams have adapted to the way he plays.
Where do Bayern need to strengthen?
There are players retiring, like Mehmet Scholl, and players leaving, like Hasan Salihamidzic, who's been a massive player for the club over the years. Players come and go – it's normally only one or two, but this season it could be more. I think the management might be looking
to buy some offensive players: a striker plus a playmaker.
There has been a lot of press attention in Germany recently about the amount of diving in the Bundesliga. What do you make of it?
I think there's a lot of diving going on and it's a disgrace. Diving has never been a consideration for me – I can't dive to save my life. I get kicked all the time and I should be getting free-kicks but the referee doesn't see it. Players are trying to con the referee and at this level it's disappointing. English culture has it correct in that people don't dive. The players are very honest – sometimes too honest because we often get the wrong end of bad decisions.
Is German football in good health?
When you look at the stadiums, I think it's probably one of the healthiest leagues. I watched Roma against Manchester United on TV and there were lots of empty seats. That's top football – the quarter-finals of the Champions League. Some of the best players in Europe and there were empty seats. In the Bundesliga every stadium is pretty much full every game. We've got 70,000 fans at Munich week in, week out. Maybe there's not the individual talent that there is in Spain, Italy or England,
but I think the Bundesliga is in extremely
good health. l
Interview by Paul Wheatley