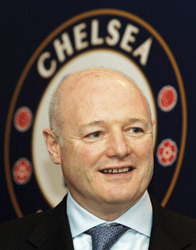 World Soccer: Are the big-spending days at an end for Chelsea?
It's refreshing that other clubs have taken on the mantle of big spenders but it's not over from our perspective. It's just that we sat down, as we do every season, and considered what we needed to strengthen the squad. One of the issues we had to consider was the African Nations Cup in the middle of the season and the impact that would have, that for a period of time we might need more players than we would have in a normal season. But then the type of player we bring in in those circumstances might be more of a squad player than a star. So the spending issue is more of a coincidence. We have said all along that we never believed we had to continue spending at the levels we did in the first two years under Roman Abramovich. But there is money available for the right player.
Is the target of reaching financial break-even by 2010 still achievable?
The 2010 target was never a firm statement, it was more an intention that we would reach that objective on or around that date. We are still on course. We've improved our revenue significantly and have been one of the fastest-growing clubs over the last four years. The quality of our image is very good and, three years in, we're tracking extremely well. Break-even in 2010 or 2011 is not off the agenda.
Chelsea's Asian strategy appears to contrast strongly with some other clubs, who fly out, play a few matches and fly back. You have a formal development partnership with the Asian confederation. But is Asia going to be worth all the effort everyone is putting in?
New revenue streams are developing in Asia. In the spheres of media and new media they are more advanced in some ways than we are in Europe. There are other opportunities as well. We've already seen the advent of Asian players coming to European clubs, though there has been some cynicism about the reason. In fact, there isn't an Asian player at Chelsea because we don't believe there is a player available of the quality we need. But when you look at the population figures you can see that occurring in the next few years. As for the programmes we are putting in place with the AFC, every year the Asian player of the year has the option to come to train at Chelsea. Equally, there has been a "land grab" for Asian fans but there is a difference between connecting with them long-term and attracting them just because you are the new club who has won the Premiership. It takes time – and more robust grassroots connection. If anyone says they're going to get rich out of Asian football quickly they're mistaken. We understand the longevity aspect and we cannot afford to ignore the economic prospect of China. We will also see more and more sponsorship coming out of that market.
Roman Abramovich was the first major foreign owner in English football. Why the influx of so many more foreign owners lately?
The initial attraction for foreign owners in the Premier League is the potential business opportunities that its scale and size and media awareness can bring. At Chelsea we're somewhat different; the American interest is more business-orientated than sport-orientated. I don't think that's bad because it hasn't been demonstrated that it's bad. You can't say because someone is a foreign owner he is a bad owner, nor can you assume that just because it's a business agenda it's bad for sport. There is a certain amount of scaremongering because the concept of the foreign owner is new. Of course, the "fit-and-proper-person" tests have to be carried out properly. I think it's as tight as a sports governing body can manage. There are other issues for which there are better inquiring bodies than football ones, organisations with more teeth and reach. For me, the big issue is about the way clubs are leveraged and funded, and there is still time to run before we can make a judgement call. At least at Chelsea we are spending our own money, within our own control, which sets us apart from some of the more recently-acquired clubs.
What is the future for Stamford Bridge?
We're operating on a 42,000 capacity and selling out for all our games. We've said all along that to get to 55,000 would be good but we're not going to move 100 miles to achieve that. A core part of Chelsea is this location. We haven't fully given up on the idea of expanding Stamford Bridge but we understand the difficulties of developing a 55,000 or 60,000-capacity stadium on a 13-acre site. Finding a 20-acre site in a location which would be acceptable to all of us is very difficult but we continue to pore over what we can do.
It would be an enormous decision, wouldn't it?
Of course. Some of it is about the revenues you can generate from a stadium, and right now our revenues have been as high as Manchester United achieved when Old Trafford was a 67,000-capacity stadium [it is now 76,000]. We have to be careful about what is driving this: whether this is the right thing to do from fan and team and business perspectives. Anyway, even if we decided to move tomorrow, it would be five to seven years before we could open the gates because of planning and other issues.
But revenue also depends on ticket prices and Chelsea have not always had the best press in this sphere.
The past two seasons we have held our prices. I don't think, because of other issues, we are looking to increase them. We have introduced more concession prices with two very successful price-cutting opportunities, for the FA Cup and League Cup, where every game has been sold out.
You will have been chief executive for four years in February, since you moved to Chelsea from Manchester United. Is there anything that has surprised you about the job?
One of the big differences about operating in London is the media aspect, the intensity of the attention we get. That surprised me.
UEFA president Michel Platini's new strategic council met formally for the first time recently to hear and discuss his proposals to change the access system to the Champions League. How do you view this development?
It's a major step forward. Around the table we had UEFA vice-presidents, FIFPro, the European leagues organisation and the clubs. The best decision we took was in deferring a decision on the new access proposals. That said that the council was not just about lip service; it sent out an important message about the game evolving in the right way. Michel has an awful lot of experience as a player, coach, administrator and now president of UEFA. That is a great credential. He is unbelievably passionate, and the way he presented his case was compelling. But we said this is the first time we have seen this document and we should not reject it, because we need to understand what it means. The council should not be a mere rubber stamp. This is about process. We had good, frank dialogue. All parties saw different aspects than when they first walked into the meeting.
Is G-14 dead?
G-14 is still there. Certain other structures are now in place which change what G-14 is about – I know because I was a founding member, and it was formed because then there was no mechanism for dialogue. Then UEFA created its club forum and now we have the strategic council. I don't see anything wrong with clubs getting together to discuss club issues. What has developed does not mean a death knell for G-14. As a body, though, in terms of numbers it's probably not as relevant as it was because it needs a wider population than clubs. Its purpose has to be rethought.
Coming back to Chelsea, is your priority now winning the Champions League?
Over the last few years we have been in the semi-finals twice and we have qualified from the group stage every year, so we are starting to build a big credibility in the competition. To move forward now we have to get to the Final – and then, as we've seen in the last few years, anything can happen.
Have Andrii Shevchenko and Michael Ballack been the failures they are considered by some?
I don't subscribe to that. First and foremost, both are on long-term contracts, so their contribution was always envisaged as far more than just one season. Have we seen the best of Shevchenko and Ballack? No. Did they contribute positively? Yes, and they have continued to do so in ways that people may not have expected. For example, not only did Shevchenko score goals – which he did, though lots of people think he didn't score one! – but also the benefit he provided for Didier Drogba was significant. Ballack played an awful lot of games for us. The experience both players brought was important. There are things they brought to the club off the pitch that people don't see. We've still got to see the best of them but I'm confident we will.
When Mourinho arrived he inherited the team's "English pillar", players such as John Terry and Frank Lampard. But, over the long-term, how will you protect that "Englishness"?
We have 17 England internationals in our four age-group teams between the under-17s and the under-21s; 70 per cent of our academy are English. That's not to say we will pass up a good talent because he is not English, but our overall philosophy is that we want the nucleus of our team to be English and are very serious about that. It's got all sorts of benefits, both culturally and in terms of sport. The link of a home-grown player with the fan base is enormous, while the ability to keep players who have actually loved the club since they were youngsters is important. Not only are nine of our 21 senior players English but seven of them are London-born.
Where do you see Chelsea in 10 years?
Achieving our objectives, which is to be recognised as one of the top European clubs. That means we will have won more than one European Cup and continue to sustain ourselves as a leading club in our domestic league. On the back of that we will also have a profitable business and be recognised as a good corporate model. That is what we are building here.