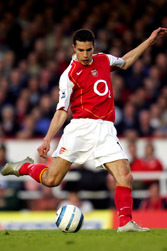 World Soccer: After such a long period out with injury last season, you seem to be playing on another level since your return to fitness. How do you explain that?
Van Persie: It has been a difficult process but a good one and I'm pleased with how things have turned out. It's often the way that when you are on song, you stay at that level and it's very hard to knock you off your stride. But if you're in a negative spiral it can seem that whenever you shoot it's always just over the bar or just wide.
When things are going well for you, even the shots that should go wide somehow manage to find the net. That was the way things were for me before the last World Cup. I did everything possible to try and stay in that vibe, but I also knew that it would have to end at some point.
At the moment I got injured I was playing the best football of my life, but then everything changed in a fraction of a second. I suddenly found myself sidelined for six months. After the injury, I approached every training session and every match with the attitude that it could be my last. I'm still very conscious of that and that's why my attitude these days is: make this your best match. Of course, you hope that nothing happens, but if it did then I want to have the feeling that I finished with a good performance.
Did you expect to reach such a high level so soon after returning from injury?
No. I discussed it with Arsene Wenger. I was keen to have a slower build-up to matches, and that served me very well. I started preparations for the season two weeks earlier than the rest of the squad so, physically, I was ahead of them during the pre-season matches. In the first four of those games I played for half an hour each time, and then I felt ready for a full match. That came against Inter, and I took a lot of satisfaction from it. I scored a good goal out of nothing and generally played really well. But what was more important was that the team played such good football. When you have that kind of positive atmosphere you can keep going for ever. It was fantastic and confirmation that with our really good football we can beat any top team. This was the answer we needed as a group. I'm fully convinced that we can achieve really big things with this group of players.
There seems to be a great belief within the squad at the moment.
Even during training there is an unbelievable drive and ambition to win, whatever form the session takes. Everything is so competitive, nobody wants to lose. This is a crucially important factor, something you will always find in a team that is capable
of achieving big things. We can do that against Chelsea, Manchester United and whoever else.
Arsenal's potential has been there for some time. Are we now seeing it blossom fully?
It was always there but it has grown more recently because everyone realises that Thierry Henry has gone. He was good for 20 or 25 goals per season. So with his departure and because we can no longer rely on that individual contribution, we have to do it collectively. This is not something we have discussed as a group, but it is something that I feel everyone is aware of.
Arsenal have often tended to fare badly against more physical opposition in England. There is a sense that teams deliberately set out to give you a bruising. It happened again recently at Blackburn. What is your opinion of this type of English football?
Yes, that [the Blackburn game] was nice, really English! But, seriously, I feel you can play hard and should play hard in England. You should prepare yourself for a battle in every match, especially when you go north. But that's not a problem. However, I do have a problem when I see that [Cesc] Fabregas is brought down and he's lying on the ground injured and someone "purely by accident" plants his studs on his neck. That is going too far. I am afraid that sometimes there are teams who go over the top, who take their definition of commitment too far.
How can you protect yourself: by using your skill or by fighting fire with fire?
You have to stay within certain boundaries. You could see it recently with Cristiano Ronaldo, a fantastic player, a player who should be cherished by English football.
I don't want to see that within two or three years he says: "Forget this, England – I'm off to Spain where I can play normal football." OK, I know that in one match he headbutted an opponent, but I know for sure that he was continuously kicked. The opposition players stood on his toes all the time, as well as subjecting him to a non-stop barrage of swearing and provocation. Some referees do a good job and protect you but not enough. This isn't a plea for mercy: you can play hard against us, that isn't a problem as long as it's fair. Ultimately, the best response we can produce is to just play our own game. The best way to break the opposition is to score.
At the start of the season, especially after Henry's departure, many wrote Arsenal off because the team are so young. Was that never a concern?
Age or other things aren't an issue if everyone puts their foot in at the right time and works and runs for one another. We have a group here who have more than enough quality between them, and with the togetherness and good spirit here we'll be successful. There was a good example of that against Sparta Prague [in the Champions League third qualifying round], which was another rather physical match. For some reason during that game I realised it wasn't going to be my day. In a situation like that you have a few options. You can be annoyed and angry, and try to take out your frustration playing out aerial duels with a defender who is over 2m tall, or, as I decided to do, you can work hard for one of your team-mates – in this case the player who was behind me [Alexander Hleb], and help him to score, which is what happened. That situation shows that by working together and responding together to changing circumstances you can get results.
You are now the main striker for Arsenal and are already finding the net regularly again. How does the new role suit you?
I scored 11 goals in 23 league games last season. Now, I am finding myself more frequently in front of goal than I did before, when I was used more as a shadow striker, but I also have to cover more ground to get myself into the box, which is hard work.
Would you call yourself a typical striker?
I see myself more as an all-round attacker, whether that's as a striker, right-winger or No 10. In the national team, I've played in all the positions. If you want to be a good forward then I believe you have to be able to play anywhere.
But surely you must have a preference?
It doesn't matter to me, but [Holland coach] Marco Van Basten has asked me where I feel best. He wanted to know whether I was more comfortable on the left or the right. I told him that because I'm naturally left-footed I generally felt better on the right wing. That's because when I receive the ball my body is between the ball and the opposition, allowing me to go either inside or outside; I can take him out with a manoeuvre on either side, shoot, cross or dribble, whatever the situation requires. But it isn't easy for him given that he has five or six top attackers available for just three positions. For me, the only important thing is that I am a regular player in the Dutch team, it doesn't matter where I play.
Do you think Arsenal can maintain their good form throughout the season, and can you carry on subduing the teams that try to stop you playing?
We have to make a statement that we're ready to stand strong, that we won't be messed with and that we won't respond to abuse. What annoys me is that other teams are always complaining when we commit a foul, while often they are at it for the whole match. They should concentrate more on playing football and less on such emotive incidents. As for Arsenal's prospects, yes, even with a young side we're ready to take a step forward. And we already have some gigantic conflicts behind us.