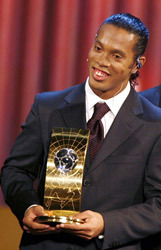 World Soccer: You have won practically everything you can in football. How do you see all the success in your life?
It's been amazing seeing all my dreams come true. I am extremely happy to have won so many awards and titles but I hope there are more to come. My life has changed but it's been easy to deal with because I feel I am the same person I was before the fame and fortune.
How has your life changed since joining Barcelona?
Of course, people recognise me everywhere now so I lost a lot of privacy, but I have to accept it. It's just part of my life and I try to lead a normal life, even knowing that people will give me attention.
You are constantly in the media spotlight. How do you deal with that?
I know I am lucky to do what I love and to be who I am so it's not that hard dealing with it. The only thing that's hard sometimes is knowing that everything I say is analysed in detail, so sometimes I am a bit shy in interviews. But overall I try to stay calm and try to be myself.
People come from all over the world to watch you play at Camp Nou. How much pressure do you feel to play well all the time?
There is pressure, but I thrive on it. People know what I can do and that motivates me to play my best. I don't look at it from a negative standpoint. If there is a whole stadium expecting me to do something special, then it's because they believe I can do it, and that gives me more belief. Obviously, I can't be great all the time and that makes me sad, but that's life.
How much do you practise your moves and free-kicks?
I try to practise all aspects of my game every day – penalties, free-kicks, everything. Normally I try to take 50 free-kicks and 50 penalties in every session so I feel comfortable in match situations. As far as dribbling is concerned, it's tougher because in games you have three seconds to improvise and if a defender adapts well to your move, then you have to make something else up. So it's easier to practise set-pieces because it's all about concentration.
What about the free-kick you scored against Werder Bremen in the Champions League. Did you mean to put it under the wall like that?
I had thought about scoring a goal like that. I saw Rivaldo and some other players do it. I was waiting for the right time, and since all the Bremen players were very tall, I thought it might be a way to catch them off guard. I am going to keep practising it and hopefully I'll score again like that.
You are the face of many products and you appear in many commercials. Is it hard managing the business side of your career? Does it affect your focus on football?
That area of my career is managed by my sister and my brother so I can concentrate only on football. They make those extra-curricular arrangements and then I try to fit it in to my schedule, but my priority is football and playing well. I am lucky enough that most advertisements have me juggling, which I am good at. I don't have to memorise too many lines, which is great because I am a footballer, not an actor. Overall, I normally have fun doing commercials – it's something different.
People criticised Ronaldo when he was at Real Madrid because they thought he was too concerned with personal commitments and no longer giving 100 per cent on the pitch. Are you afraid that might happen to you?
What happened to Ronaldo is different to what is going on in my life. He was blamed for Real Madrid's problems and bad results, and the media created an image of the player that didn't correspond to the truth. I know Ronaldo very well, I know he still focuses on football, so it's unfair what people say about him. As far as I'm concerned, my priority is football and training, and extra-curricular activities come after.
What about your relationship with Samuel Eto'o? He appeared to criticise you after you had suggested he was putting his interests before those of the team.
It was a sequence of misunderstandings. One person interpreted the other person's comments in a wrong way, so he over-reacted, and that's what created the confusion. The matter has been resolved now and we are stronger than before. Everyone will learn from what happened and the squad will unite.
What has been the highlight of your career to date?
Winning the World Cup was a dream come true – I had thought about it since I was a child – and the Champions League and the Confederations Cup are titles I cherish. But I believe the best is yet to come.
What about the lowest point?
It was really hard being knocked out of the World Cup last year because everyone expected us to do really well, and we did have a fantastic team and could have won the title again. But the toughest moment may have been when I left Brazil for the first time and moved to France to play for Paris Saint-Germain. I didn't get a game right away and it was difficult to be on the sidelines in those first few months and at the same time try to adjust to a new lifestyle.
Would you agree that you were not as influential as normal at last year's World Cup? Were you tired after a long season?
All this belongs to the past. For me, it was a big disappointment, and on my website I begged the fans' forgiveness for the fact that Brazil were not able to achieve success. A lot of things had an influence, but we have learned a lesson and will try and do better in the future.