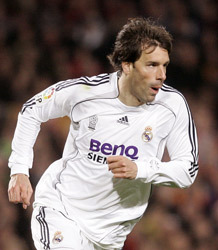 WORLD SOCCER: OVER THE PAST three years Real Madrid have had plenty of stars but little coherence. Has that changed?
From day one, [Fabio] Capello was very clear on how each position should function; everyone has their task within the team. He has created a solid unit: four defenders, two controlling midfield players, three attacking players and a deep-lying striker.
Capello wants the team to play like an accordion, with everyone going forward and everyone coming back. This requires a lot of energy and he has brought in fitness trainers from Italy who are extremely tough. His work ethic is clear, structured and finely tuned. We do a lot of training using the whole field, and his accent is always on positions. If one player is in position A then the other has to be running into position B. We will also spend five minutes continually pressurising, then dropping back and then again going full out.
How have these methods helped you?
I feel really fit and strong now. That said, my form has been rather strange: I can score four against Osasuna or three against Levante and then go a couple of games without scoring. But that seems to be the pattern of the whole team at the moment. Sometimes everything works to perfection: you see defenders and midfielders vying with each other to get a cross in, which is a dream for any striker. Then there are also matches where we aren't pressurising enough, and in those situations, as the only striker, I have to be continually looking for balls.
How different is the style from Manchester United, and has it been difficult to adapt?
In England, you rarely get the time to play the ball to the midfielders because there is so much power and pressure. That's why the midfield is bypassed, especially in the first 30 minutes. During that period you get a very intense battle, but then things calm down and the game opens up.
In Spain, they pass the ball, and every team starts the build-up from the back. That means I get more time to look for space and find ways to get into the game, and in that respect I'm happy I made this move. It's important that I develop more as a player and am more aware of what I'm doing. I'm thoroughly enjoying the process.
2006 was a difficult year for you. Have you put all the problems behind you?
Last year was the ultimate test of my personality. I was forced to ask myself: "What is really important for me as a person? Where am I in life and how do I face up to other people?" I always treat people correctly, in a positive manner, and that is something that I still believe in strongly. That has always been my starting point in everything I do. I could be more calculated in what I do, but I don't want to bargain with myself. I want to be led by my own feelings. I want to be able to say: "I believe in that and I am standing up for that, end of story." If I couldn't, then I'd stop tomorrow. That's how important this has become for me now.
Your grandfather was once banned for 15 matches for punching an opponent. Have you inherited his character?
I'm no angel. In this game you've got to be a man, but in the correct manner. If I feel I have to stand up for myself, then I do it. My grandfather had the same principle. The incident you describe happened when an opponent pulled the elastic out of his shorts – and in those days a lot of time went into making the shorts, and he only had one pair. He couldn't play with his shorts round his ankles!
Do you regret the way you have handled certain situations in the past?
You can only have regrets if what you do is based on calculated decisions. You can then say that you maybe made the wrong decision. I made my choices based on my beliefs, and that feels good, whatever the outcome. That's why I now have inner peace.
Do you know why things ended so badly at Manchester United?
There was a break-up in the relationship between two people. It originated at the League Cup Final [against Wigan, last February]. After an hour we were 4-0 in front and I was desperate to come on with still 30 minutes left, maybe score a goal and be able to lift the trophy. First Kieran Richardson was brought on, then Nemanja Vidic and Patrice Evra, who had only arrived two weeks before. I exploded and began swearing at [Alex] Ferguson because I felt he had kicked my soul. That was the moment things died and, after that, things would never be good, they could never be the same again.
Was that down to Ferguson or you?
Both of us, and I find it rather tragic. This was the man who visited me in hospital when I had my bad knee injury while I was with PSV. This was the man who wanted me at all costs. It was because our relationship through the years was so warm that this situation was so painful. Ultimately, the way things went says plenty about the football world [United allegedly forced the split so that they could pick up the £10million transfer fee]. But, for me, that isn't a licence to treat people like that. These are considerations you make and, of course, I could have been cold and calculated and thought: this is the way the football world is, I'll stay where I am, take the easy money without any hassles.
How much of a disappointment was last year's World Cup?
We achieved nothing. The team got caught up in a negative cycle. After we'd come through the group stage, there was a feeling that the path ahead was clear for us. Then, before the Portugal match, three players – Mark Van Bommel, Khalid Boulahrouz and me – were going to be dropped, which caused unrest within the group. Ultimately, I was the only one who didn't play. What really annoys me is that we'll never know what would have happened if I'd played against Portugal [Holland lost 1-0]. At a World Cup you should be able to give your all.
For me, we didn't do enough, and it's a pity he [coach Marco Van Basten] never even tried alternatives, like me playing up front, with Robin Van Persie behind me and Dirk Kuijt on the right. Instead, he chose Rafael Van der Vaart. But then, what do I know? I'm looking at it from my point of view, but that's only human.
Why do you feel Van Basten had a problem with you?
I don't know. Maybe he didn't like the way I responded during our final days at the World Cup or how I spoke to him. All I did was to state my case in front of the whole group, but I knew beforehand that Van Basten's response would be drastic. If he doesn't like something, then you're finished. There's nothing wrong with that and at that moment it's his truth that counts. But I'd still have preferred that after the tournament he'd told me straight to my face: "I'm finished with you.
I'm not pleased with how you played or how you conducted yourself. Let's shake hands, but you'll not play again for me." Then I could have responded by saying: "I don't know why you're talking nonsense but at least I know where I stand." Then I would have had more respect for him.
Van Basten was your boyhood idol. Has he now fallen off his pedestal?
Not as a footballer.
Do you still bear a grudge against him and Ferguson?
Not at all. In Spain, we see a lot of Manchester United matches. The first time I watched them I found myself thinking: "There he is, that…", and that felt good. It was the same with Holland. But now I am at peace with it all and have no problem watching games. After the World Cup, I accepted what happened and moved on.
Edwin Van der Sar spoke up for you in public. That must have pleased you?
Yes. For me that shows he has character. He's a good captain of the Holland team and a good person…and that makes me feel good. Nobody else [supported me], but it doesn't matter. I understand why. I react the way I do because I'm at an age [30] where I have experience. Van der Sar is in the same position. He's 36, the captain, and in
a position to do that; but young players think to themselves: "I want to play for the national team or for my club, so I'll hold my tongue."
Dirk Kuijt didn't hold his tongue. He was publicly critical of you. He said you should have kept things in the dressing room.
If you want to reason along those lines then he should also have kept that comment inside the dressing room or kept it to himself. Or he could have called me instead of going on TV. Some guys are just so calculated in their actions, especially when it's to their advantage. They say what others want to hear, not what they mean.
How do you cope with the pressure and media hype at Real Madrid?
My father was at the most recent Real Madrid-Barcelona match and afterwards he couldn't believe all the names that were there. It's only at moments like that when I think about where I am. When I first moved from Heerenveen to PSV Eindhoven I was scared; I thought to myself: "What will it be like among all those great players?" But now I know that the changing room at Real is no different from the one at Heerenveen; there is the same kind of joking and messing about; savouring victories and working through defeats together. These are the same feelings I had as a boy, and the same reasons that always made me want to play football.
The most important thing for me, amid all the pressure, is that I savour the purity of the game: the football, the training, the team spirit – that's what it's all about for me. Of course, you can't ignore all the other things that are required from a player. But football has become so huge that if you pay attention to everything in the media you'd go crazy.
The media hype is an integral part of club life. Every day, the mixed zone is full of journalists, which is very demanding. Every day you're being judged, and not on the number of goals you've scored; no, it's on how you greet the press or how you walk. If I don't shave one morning, then the next day I read that I'm scruffy and untidy or that I must be very tired. You're treated like public property, and to survive you have to distance yourself from the hype. Stay grounded and don't let yourself get carried away. Whenever I have something running round my head, I sit down and write everything down. When I have everything down on paper the way I want it, the burden is removed. Writing things down is therapeutic.
Are Real Madrid bigger than United?
United were big but Real Madrid are on another level. I could have gone to Bayern Munich or Milan but it had to be Real. This club has a special allure; everything about it oozes elegance, style and pure class. The legend on the team shirt reads "Club of the Century". That says it all. The players are always expected to dress smartly, in suits and ties.
Everyone realises that they represent a very special club. And that is also reflected in the club's football philosophy. It doesn't always work out, but the belief is that there must be something beautiful, something special about the way the team plays. And there are the moments when you bump into old players, such as Di Stefano and Gento, who won all those European Cups. As a football enthusiast I enjoy these encounters immensely.
Real Madrid have had a trophy drought recently. Can you win something this season?
Every day we're working on improving. We can't do any more than that. If you carry on working at it, eventually you will win a prize. I felt that when United won the title in 2003. We are champions – the sense of that is overwhelming.