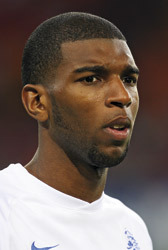 World Soccer: Do you feel settled at Liverpool?
Ryan Babel: Naturally, I miss my family, friends and my home city, Amsterdam, but it isn't as if I'm homesick. My new life is far too good, too exciting and attractive for that. From the moment I arrived at John Lennon airport [in July last year] with my girlfriend, parents and agent and I saw a chauffeur with a board with my name I felt something special. After talking to Rafael Benitez at the training complex it only confirmed I had made the right choice.
What did Benitez say to you?
That he had signed me because he wanted more players in the squad who can get past opponents. He also told me that I'd get the time to familiarise myself with the level of football in the Premiership. That was very important for me as this was a huge step I had made. Of course, my status as a young talent carries certain expectations but Liverpool see me as a rough diamond that needs to be cut and polished.
Everything seems to happen naturally for you.
I try to keep calm. People think I'm insensitive and that nothing affects me but the exact opposite is true. After Marco Van Basten selected me for the World Cup squad in 2006 someone asked me if I had jumped for joy. That wasn't the case and I said so. I was happy inside, but with me you don't see that.
Were you surprised how quickly the transfer happened?
I never thought for a moment that I'd have to leave Ajax to make the next step in my development. Two years ago [when Babel was 19] Liverpool were interested in me but then I didn't have a good feeling. I didn't know anything about them and the club didn't inspire me, but that was pure ignorance on my part.
Last summer the situation was different because Liverpool had reached the Final of the Champions League twice in three years. My agent told me that they had already bought Fernando Torres, and that made it even more interesting. Along with [girlfriend] Lindsay, we discussed this intensively for a week. We were both living with our parents at home and wanted to live together, and along with the transfer it would be a gigantic step. Eventually we decided that we would do it, and Benitez insisted that I call him personally with my decision.
My agent gave me his number and after four attempts I finally got him. We had a good, open conversation. Benitez was completely honest and told me about his rotation system, but from his way of talking I felt he knew a lot about me as a player. He was very well informed.
How important have your family been?
The opinions of my father, mother and agent are very important for me. Since I was 14 when I first met Winnie [Haatrecht, his agent] we planned together what the goals were. Every two months we meet up and write down what the new objectives will be. You have to see this as a performance contract with standards I have to meet. Everything is saved on the computer by my parents.
Not many youngsters take such a serious approach, do they?
After my first match with Ajax we realised I had to deal with so many issues. At the time I was going out after training and having fun with friends in the evening. I covered up my tiredness and kept going into the city but after a few months I discovered I lacked energy sometimes during training and matches. That's why my performances were so erratic.
My parents and Winnie made this clear and told me I had to get to bed earlier, get more sleep, be careful with my diet – eat a good breakfast and not a loaf of bread late in the evening after having a big evening meal. Sometimes I thought, have I got to listen to all this crap again?
My father is very critical, and from the 10 things we spoke about, if eight were good he'd be going on about the two that weren't. We've had a lot of confrontational discussions over the years but the result was that I've had to live for my profession. I enjoyed a good last season [at Ajax] thanks to the extra work and a sober lifestyle.
And have you carried on with that approach at Liverpool?
Yeah, I'm learning so much here, and again I see that it's often the small details that make the difference. After a match we have to stand in an ice bath for five minutes. You can be affected with cramp or lactic acid, and that causes small tears in the muscles, but by applying cold water it repairs the damage immediately.
During pre-season I had to do it after every training session and it was so cold, really horrible. In the beginning I could only suffer it for half a minute and sometimes I stood with my tracksuit and socks on or I tried slyly to miss it. Even during training I was thinking about the dreaded cold water but now I'm used to it – and it certainly works as I'm more flexible and feeling a lot better the following day.
Are you happy with your progress this season?
I'm reasonably content, but of course I have wanted to play more, and that's normal. Sometimes I have been very disappointed, but Benitez has his reasons. He always rotates, and I knew that before, so I accept it. We hear who's playing only an hour before the match. From the training sessions you have no idea who'll play, and I've had to familiarise myself with the changes.
People will probably find these stories strange but Benitez is a good coach and a very fine man. It's understandable I'm not playing 90 minutes. Physically I'm not yet at the point that I'm able to play 90 minutes in the crazy tempo of the Premier League. Even against the smaller clubs it's difficult for me.