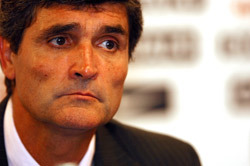 World Soccer: You're UEFA Cup holders, thrashed Barcelona to win the European Supercup, are top of the Spanish League and playing brilliantly. How have you managed it?
We've had such self-confidence and conviction since the UEFA Cup Final that we have been able to achieve really excellent results. We beat Barcelona clearly and went on an excellent run in the League. The team has total confidence in our system; there's a real conviction about everything we do. The key is convincing the players to be very ambitious. Sometimes you can lose games, but you have to keep going with it, keep striving to achieve more.
Can that confidence be broken by a couple of bad results?
I don't think so. We've had a few bad results and come back from them. I try to make the players see that you can win or lose, but that there's a path you have to stick to. You can lose the match, but you can't lose your identity.
Sevilla's success has been coming for a long time, hasn't it? This is a club that does things the right way at almost all levels. The youth system is productive, the signings policy has been successful…
You won't find us doing here what they do at other clubs, when after one bad season they dump 10 players and get 10 new ones or change the whole structure. Each season we perfect little things, we don't need a huge overhaul every summer. Last season, we got knocked out of the Spanish Cup but carried on in the same manner because we thought we were doing things right. We wouldn't have succeeded if we had thrown away all that good work.
Sevilla have been very successful in the transfer market.
There are players we can't afford so we have to look for cheaper players who still give us good results. You're never going to get it 100 per cent right but there are ways of maximising your chances: you don't just look at the player on the pitch but everything about him. You can think someone's a good player and then discover that his private life is a mess. So, you watch him play and train, you speak to those close to him.
Is it easier to work without stars, with players who have won nothing?
The player who is not a star may be hungrier but the star guarantees you a certain number of victories because he can win games on his own. Sevilla don't have any stars but we win the games on the basis of humility and a level of physical exertion that is very, very high. Teams with stars make far less effort but can win the game with one moment.
How does your relationship with sporting director Monchi work? What roles do you have when it comes to choosing players?
There's a clear consensus. I tell Monchi the player or type of player I want: fast, tall, left-footed, right- footed, good in the air…and, based on his work and expertise, he says to me: "Look, we have this guy, or this guy." Between us, we identify the player, or players, who can fit that. But it's not always like that. For example, Freddie Kanoute was a player no one here really knew and I recommended him because I had seen him for Tottenham and West Ham.
Would you like the model to be more like in England, with you controlling the signings? In Spain, at other clubs, the sporting director-coach model has caused lots of problems.
The thing is, the coach doesn't really have time to do both jobs. What you need is trust and professionalism.
This is an excerpt from an interview with Juande Ramos. The full interview appeared in the February 2007 issue of World Soccer. To subscribe to the magazine, click here