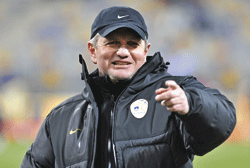 World Soccer: What were the key factors in Slovenia's successful qualifying campaign?
Matjaz Kek: Looking back, I could pin a lot of our success on our big desire and motivation, shown by the quality performances that we have displayed on the pitch.
Who are your key men?
The trademark of our national squad is the team itself. We don't have big superstars and the team as a whole is the main factor on which I base my hopes for the World Cup finals.
How differently will you have to approach the games in the finals?
The World Cup demands a proper and thorough preparation of the team. In terms of logistics and organisation, we are doing everything we can to have the best possible conditions in South Africa. As far as the preparations for each of our opponents go, I'm not going to discuss tactical aspects.
What of the group draw? Would you rather play an easier team than England?
Any national team knows it is an honour to play England and it's no different for us. After all, football was invented there. It is always a challenge to play against them.
Is it easier to pick a squad from a limited number of players?
Sometimes it's better to have a smaller choice of players if everything is OK and if they are all in good health and form. A small base means that the coaches have fewer headaches when it comes to deciding who to call up. However, if problems with injuries and dips in form occur, it's always better to have alternatives. But as far as our team is concerned,
I'm happy with the choice of players I can pick from.
Why have you chosen relatively easy games as warm-up matches rather than testing ones?
Relatively easy matches is a relative term! It depends on the perspective you're looking from. We have chosen opponents we thought would be appropriate considering the time-frame involved. We have played a lot of tough qualifying and friendly matches in the most recent campaign, so we think that our choice of preparatory matches is appropriate.
How differently will Slovenia approach South Africa 2010 to the way they approached 2002?
That's hard to say, since I don't know how the Korea/Japan World Cup was approached. I have my own particular way of getting things done. I do not want to compare different generations to each other. The team then and the team now are so different that it's hard to draw any parallels.
What does the World Cup mean to a nation like Slovenia?
It's a great stage to present and promote our beautiful country. But that isn't my primary concern; most of all, it's what the team can do on the pitch. We want to show our qualification for South Africa was well deserved.
How do you see your group going, and who would you like to meet in the next round if you qualify?
Were I a fortune teller, my life would often be so much easier! I will think about further matches as and when that possibility presents itself. At this moment I am only interested in preparing the team for our first match against Algeria.
Who are your favourites for the World Cup?
There are a few teams that are always considered as top choices to win any World Cup – teams like Brazil, Argentina and Italy. There is also England, whose team has a lot of quality and great leadership. I can also put Spain in that bunch, considering the attractive matches they have played recently. There's also a big question concerning how well African teams can do now that the World Cup is in their backyard. It is going to be very interesting.