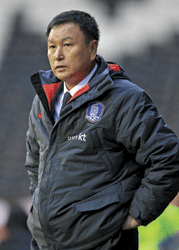 World Soccer: How do you see South Korea's World Cup draw?
Huh Jung-moo: Group B is tough. No team is weak. Greece, Argentina and Nigeria are not easy opponents. If I'm honest we probably lag behind our rivals, but we will be trying our best to make life difficult for our opponents. Our players want to make an impact at this World Cup.
What will you be working on with your squad in the run-up to the World Cup?
There's quite a lot that needs to be improved before the World Cup. The biggest practical problem is communication between the players. Our players play their club football in a number of different leagues so they lack the ability to communicate when they get together with the national team. We will need time to build up trust between the coaching staff and players, but the players need to trust each other too. When players trust each other, that's when you start to generate a real team spirit.
Are you pleased or disappointed that some of your players have returned home after disappointing spells in Europe?
I'm pleased. It gives me a selection headache and that's good. Cho [Won-hee, who returned to Suwon Bluewings after a spell at Wigan Athletic] has shown he is a good enough footballer to play a full 90 minutes against Manchester United [in December] and he has also performed well for the national team.
Can you still claim to be Asia's strongest team after losing 3-0 to China in the East Asian Championship in February?
Generally speaking, the game wasn't great. We lost because there were some players playing in the national team for the first time. We were too focused on defence and we should have counter-attacked. At half-time I told the players to stay calm and play their usual game, but because the Chinese were dominant we couldn't reclaim our position. People often say there are two powers in East Asia, but there is very little difference between the teams in East Asia and indeed in Asia as a whole. The difference is not so wide. China won by a wide margin and I would like to congratulate them but I'm not afraid of them. We would like to continue this kind of exchange and effort. One of the reasons the Korean team was frustrated, and one reason for the defeat, was the referee [who was from Japan]. One way to improve the standard of the competition is to not allow referees from the countries playing in the championship.
But it was important for you to try some new players at the tournament?
It was a good experience. We tried out some of the players we will need for the World Cup – players who had not played for us before.
And the subsequent win over Japan must have boosted your confidence?
Yes, we were able to see how competitive we are and we have seen which players will be good for the World Cup and which players we will use. The Japanese attack was very threatening but our defence was very solid and moved well and I'd like to take this team as a foundation for the World Cup. We learned lessons from the China game, such as that we are sometimes unstable. But our ultimate target is the World Cup, so in a way it is trial and error and we need to take risks and face challenges.
Is it true that you will be preparing for the altitude in South Africa by using altitude tents?
We are looking at all possibilities.
What does the future hold for you?
To be honest, I haven't thought what will happen after the World Cup, but I will leave the national team even if we get a good result there. I hope whoever takes over from me will continue what I have been doing.