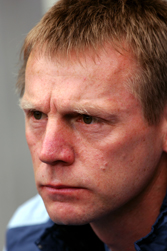 World Soccer: Your role with the FA involves working with both the Under-21s and the senior national team. Why is that progression from one to the other so important, for you and for England?
Stuart Pearce: Well, take the Italians for example. They are the World Cup holders but I think seven of their team have won an Under-21 tournament at least once, maybe twice. That tells me that there is a progression there and their players are used to winning tournament football.
As we stand, we have not got a successful youth set-up in terms of winning tournaments, and the seniors are not winning either, so something has got to change. To think it is going to change straight away at senior level and that we are going to win a World Cup or European Championship, when we haven't done so for 40-odd years, is wishful thinking.
I have to play my part and get some success at Under-21 level, so this group of players, like the Italians, can step in to the senior squad and say: "Look, we know what tournaments are all about."
Are the young players we have in the system right now good enough to go on and win tournaments?
At the moment it is a cheap line to say that the players are good enough, it's a cheap line to say that we are unfortunate not to win things. We need to take a major look at everything we've done, and not qualifying [for the European Championship] has sharpened the focus a lot.
Do young English players get enough of a chance to prove themselves in the Premier League?
At some of the bigger clubs, no. If a lad rang me and said: "I'm a 16-year-old playing at Crewe and Chelsea have come in for me, what do you think I should do?" I would say: "Stay exactly where you are, play some football with the club you are at."
The top clubs are swallowing up a lot of players. I went to watch Chelsea train last year – I saw Steve Sidwell, Reading's best player from the previous season, and Tal Ben Haim, Bolton's best player from the year before, but neither was playing in the first team. So Chelsea have cherry-picked the best players from elsewhere and stockpiled them, and that is not right.
I have seen too many players move club and then all of a sudden their career seems to come to a halt. They might be getting better coaching, but they're not getting the experience of playing. What we want is to merge somewhere between the two, the education on the training field and also, come Saturday, a match at the end of it. You can work in training sessions as much as you like, but it is the games that really educate you.
As a 16-year-old, I was playing in the first team of a non-league team and played 250 games before I turned pro. My education came from playing, and I think a lot of these younger players maybe need to be a little bit more patient rather than going to the bigger clubs straight away, because if they are good enough they will get there eventually. I also think we need to educate parents to be patient, too.
Would you support Sepp Blatter's proposal of a quota system, under which a set number of English players are fielded in every game?
Would it help me? Yes. But first I think we have got to lift the standard of these players, and that starts at the youngest possible age group. From there we do have some very good academies in this country. It's fantastic what Manchester City, Middlesbrough and Aston Villa have achieved with theirs – they are getting their players straight through and into their first teams. Now, if quotas are going to help me do my job better and help the English game overall, all well and good.
What do you think about the standard of coaching of young players in England?
There is a lot of good coaching of the younger age groups. But sometimes when I watch the coaching it doesn't mirror what is going on in the game situations for the younger age groups, because all of a sudden the technique they have worked on Monday to Friday goes out of the window with that need and desire to win a game.
Over my career I have been brought up to believe that winning is everything and I make no excuses for that, I think it is a good thing. People born on this island, with the island mentality we have, will naturally want to win. They will do everything they can to win, and you only have to go into any football stadium, anywhere in the country, to see that. It's how football has been played in this country for generations. It is how people want to see football being played. But you have got to couple that with educating young players about how to play.
So what should the long-term goals be?
We are looking to bring the World Cup here in 2018, and if that's the goal, then there should be a progression in place that says: "Right, 2018, what age group of players are going to be representing us then? Where do we need to give them their education between now and then? What major tournaments are there for them along the way?" That's some kind of a long-term plan.
Over 40 years have slipped by without us winning anything and people want answers and an immediate change tomorrow. But if we are going to agree to put things in place now for young players who might not be turning professional for another 10 or 20 years then so be it. If that's the way it has got to be then we have got to have the patience to be able to go forward, with the clubs and the national game working all as one.
Interview by Tim Beynon