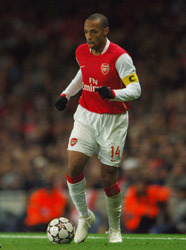 World Soccer: How important was your father in your career?
Right now I can say I am living my dream. I just wanted to play football and I just wanted to please my dad. He was the start of it. He taught me about pressure. Sometimes I would come off the pitch really happy because I had scored two goals but then I would see him frowning and he would say: "Yes, you scored two but you missed the chance to create another one," or "You gave the ball away and it cost your team a goal." People say I look very serious, even angry, out on the pitch. Well, it's my way of concentrating. I can still remember the greatest pleasure was getting back to the car after a game knowing I had done my best and seeing my father's smile. His influence is always with me – whether it's in the Premiership or the World Cup.
Have you come to terms with that World Cup Final defeat yet?
It has been very difficult mentally but there were more positives than negatives. Obviously, we were all disappointed. But on the other hand, after two years of being hammered by the press back home, reaching the Final was a very good achievement. When I went on holiday people were trying to tell me how we deserved to win the Final. But to go right to the last match and lose is something that has happened to other great teams. At the start of the finals the coach [Raymond Domenech] was the only person who believed we could go so far. Now, hopefully, we can build on what we achieved.
So you did not expect to reach the Final?
After the goalless draw against Switzerland [in the opening group game] no one knew what to expect. We had a good hour against South Korea, and Togo was tight for a while. The fact that we beat Togo only 2-0 in the end despite creating a lot of chances put a lot of questions into our heads. But we had qualified and I'm sure every other team at the World Cup would have happily taken many of our players. Then the win over Spain put wind in our sails, though it took a big mental and physical effort. You even saw Zidane and Henry back defending!
Domenech did not have an easy ride in the media. How was your relationship with him?
That was a tough job. It's a very lonely place to be. I thought sometimes I would not like to have been in his shoes – like the training session before the World Cup when people were shouting at him. But he always talked confidently about what we could achieve on July 9 [the date of the Final], even when it was a long way off. Like him or dislike him, you must respect him for that belief.
How do you view the Zidane incident?
On holiday I couldn't walk down the street without having to talk about it. But when you are in a team, stuff happens that you can't control and you have to accept. He is a team-mate and we are going down with him, that's how it is. People will remember it for a long time and maybe that will stay with Zizou, which is a pity because he is such
a good guy, off and on the pitch. For me he will remain one of the best players ever.
You are now three goals away from equalling Michel Platini's record 41 goals for France. Do you think about that much?
I am aware of it but I am not obsessed by it. Platini reached his goals total much faster than me, incidentally. But you have to respect such an achievement. If I do, one day, beat a record set by one of the greatest players in world football then I will consider it a great honour.
Where do you see yourself in 10 years' time?
I have no idea. I don't look that far ahead. We have Euro 2008 next then the 2010 World Cup in South Africa, which would be amazing. I would love to play in the first World Cup in Africa but I don't know if my legs will allow me to be there.
It's not that easy to be around in the game at 32, going on 33, especially as a centre-forward, but we'll have to see.
Interview by Keir Radnedge
This interview originally appeared in the December 2006 edition of World Soccer