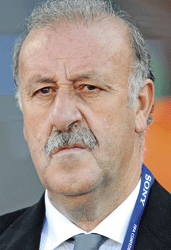 It was late when Vicente del Bosque finally left the Olympic stadium in Kiev. He was the last man out. Sergio Ramos had just dashed past holding the European Championship trophy when Del Bosque came through, with his familiar gait, lolloping slightly, and a big, moustachioed smile. As he went past, he shook hands with everyone. As usual, the one thing that the Spain coach transmitted more than anything else was warmth.
Gerard Pique describes Del Bosque as a "10 out of 10 as a person". Sometimes that has been held against him. Much is made of Del Bosque's ability to control a group, to have what the Spaniards refer to as "left hand", a light touch. He is able to give players latitude, to listen and seemingly let them take the lead. He does not weigh them down. He is, people invariably agree, a nice man. The problem
is that it often sounds like a backhanded compliment. He is a nice man, they agree,
but not much of a manager.
Jose Mourinho rather pointedly suggested that he was not a manager at all. Del Bosque, he said, only works every couple of months. "I'll be in my office tomorrow morning at 9.30am like I am every morning," Del Bosque responded. And yet he too has contributed to that image, underplaying his own significance at times.
Importance of Aragones 
Del Bosque has been quick to stress the importance of Luis Aragones in laying down a style for Spain to follow. He has talked too
of the Barcelona influence. "When we came in there was a style," he says. "And when we leave there will be the same style." (The "we" by the way is not a royal "we", but a product of the fact that Del Bosque sees his role as just one within a coaching team). And when he is asked about his successes he invariably replies: "We have good players."
Which of course he has had. Very, very good players. And the way in which he responded to success in the summer made Spain winning the European Championship appear so natural, so obvious, as to somehow remove its value. It made it look easy. The way Spain performed in the Final, destroying Italy, did likewise. There has surely never been a Final won so convincingly at a major tournament.
Yet it was not always easy and it was not always obvious. It was certainly no forgone conclusion. Even Del Bosque, normally so calm, so measured, briefly seemed irritated in Poland. When Spain progressed through the group, he noted that the country had gone from "poor man to rich man too fast". He added: "Getting through doesn't seem to taste like much to some." For many in Spain, he lamented, anything other than winning the Euros would look like a failure.
"It is not enough to have talent," Del Bosque insisted. You must also have "talante" (character). He has had to handle the conflict provoked by the Madrid-Barca confrontation. A different coach with a different personality may not have succeeded in doing so.
There was tactical debate too. Spain were boring, some said. Others complained about the false number nine. Or about Del Bosque's double pivot in midfield, with Xabi Alonso and Sergio Busquets together. Yet time has a habit of proving Del Bosque right. In the Final, Cesc Fabregas was the false nine; he was also the key player, providing the opener. Throughout the tournament he had scored vital goals. Fernando Torres, who Del Bosque rotated with him, finished top scorer. Meanwhile, Busquets and Alonso gave Spain a degree of control rarely seen before.
It was not a one-off either. When he was coach at Real Madrid he surprised everyone with a three-man defence, plus wing-backs. The result? A European Cup success. Del Bosque has won two of them. And a World Cup. And now a European Championship.
As he left the stadium he wore his success lightly. Nothing flash, just quiet satisfaction and a smile. And a medal round his neck.
By Sid Lowe