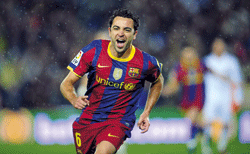 Xavi did not score 55 times in 51 games for Barcelona in 2010 like Leo Messi. And he wasn't top scorer in the Champions League like Messi either.
He didn't win a domestic double and the European Cup like Wesley Sneijder. He didn't score the key goals in a cup Final, the league's decisive game and the Champions League Final like Diego Milito. And he didn't score the winner at the World Cup like Andres Iniesta. In fact, he didn't score any goals at the World Cup, let alone five of them like David Villa, Diego Forlan, Thomas Muller or Sneijder.
But Xavi is still an extremely worthy winner of World Soccer's Player of the Year award. He may even be an overdue one.
There is a kind of embarrassment, almost guilt, about declaring him the best player in the world this year, as if we want to rectify the mistake before it is too late – and Xavi is 30 years old, after all. It is as if we're all saying sorry for taking so long to realise just how good you are, for not appreciating the brilliance in your simplicity.
This award feels like it is being handed out not just for 2010 but for the previous year too. And the year before that. It's as if we are awarding Xavi for an era. His era.
But it's not just an apology for taking so long. There is a kind of morally superior simplicity to it too, a kind of footballing puritanism, a moral duty to recognise those that make it happen – not for themselves, but for others. It is also sorry for getting blinded by all that stardust, by the goals and the tricks, by the men who dominate the agenda and take the glory. Xavi rarely takes the glory; instead, he gives it.
It is not that he is a better player than the rest, which he is, but that he makes the rest better players too. That is what we have come to recognise. It is what people like about him.
"I need team-mates, people to combine with," Xavi says. "Without team-mates football has no meaning.
I am no one without them."
The response is obvious in that they might well be no one without you. They certainly wouldn't be the same. Perhaps not even Leo Messi.
Xavi refers to himself as "basically a passer", but that simple phrase contains so much more. Spanish TV commentator Andres Montes called him "Humphrey Bogart" because, like Sam in Casablanca, Xavi was asked to play it again. And again. And again. In the clasico last season he completed almost 100 passes at the Santiago Bernabeu; this season he did reach three figures at Camp Nou – 114 to be precise. And, unusually for him, he also scored the opening goal.
By the end of last season, Xavi had completed over 400 more passes than any other player in Spain and over 400 more than any player from any other club in the Champions League.
In the game against Arsenal he completed more passes than their entire midfield put together. And he is doing the same again this season.
In the last 12 months, a player has completed 100 or more passes just 24 times in the whole of Europe. On 12 of those occasions that player was Xavi.
As Dani Alves insists, Xavi does not just pass the ball, he forces the play by making the angles for his team-mates, by obliging them to move with his passes. "Xavi," the Brazilian says, "plays in the future." He controls the game, dominating the opposition, leading his side. He is the ideologue, the metronome, the conductor. And not just for any old sides either. He does it for arguably the finest teams Spanish football has ever seen, maybe even the finest the world has ever seen.
It is hard to disagree with the argument that Xavi is the greatest central midfielder Spain has produced. It is just a pity it has taken until now for everyone to argue it. Still, at least we realised before it was too late.
In 2008, Spain were European champions. In 2009, Barcelona won the treble. In 2010, Spain won the World Cup. They all did so playing wonderful football, unique football. There is a clarity of identity about those teams that has possibly never been seen before. That identity is Xavi's identity. In each of those successes, Xavi touched the ball more than anyone else and yet, each time he got it, he had just one thought in his mind: give it to someone else.
Xavi was the man dictating the pace, the flow, the speed, the game; game after game after game. As the Spanish say: "The current Spain team and the current Barcelona side dance to Xavi's tune." And that tune is the perfect symphony.