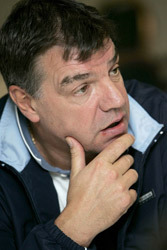 easyodds.com is the home of football betting. Click here for odds on every football match.
Sam Allardyce intends to sue the BBC after the allegations of corruption made against him on last week's Panorama programme.
Panorama secretly filmed agents alleging they had paid the Bolton manager bungs, though he has stated he has never taken a bung.
Allardyce said: "I have had lengthy discussions with my lawyers and I am planning to sue the BBC over the false and highly damaging allegations.
"My lawyers have advised me that I have a very strong case in relation to the programme.
"I have therefore instructed my lawyers to prepare my case against the BBC.
"Obviously, I need to discuss this matter with my chairman, Phil Gartside, as well as my wife, before I take any final decision, since they both have an interest in this.
"Once the decision has been taken, I will make a further announcement.
"In the meantime, I will continue to concentrate on the job of managing Bolton Wanderers, which is my first priority."
Responding to the allegations Allardyce insisted last week he had been implicated because of the greed of others.
He said: "I am very angry at the lies told about me. The individuals who appeared in the programme making accusations against me have already confirmed in writing to my lawyers they lied to the BBC.
"They lied in the hope of being able to make millions offered by the BBC reporter to buy their sports agency business.
"Those individuals never thought their lies would be exposed in the way they have been and have apologised to me.
"As a result of their greed, my good name has been tarnished by deceit and innuendo."
"As a father, of course, it is painful to watch your son talk tall and exaggerate his influence for financial gain.
"If there is any real evidence – and there won't be, as I am utterly innocent of any wrongdoing – I would expect the BBC to give that evidence to both the FA and the (Premier League's) Quest inquiry."
easyodds.com is the home of football betting. Click here for odds on every football match.