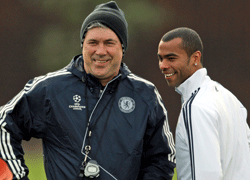 It's Chelsea v Man Utd on Tuesday night – see the best odds on EVERY market here…
Chelsea manager Carlo Ancelotti insists Ashley Cole is in the right frame of mind to face Manchester United on Tuesday, following an incident in which he inadvertently shot a club intern with an air rifle.
The Chelsea manager says Cole will be disciplined for bringing the gun to training but can expect to face United at Stamford Bridge.
"He will play tomorrow, yes," Ancelotti said. "The right frame of mind? I think so. Obviously we're not happy with what happened, but I have spoken with him and he was really disappointed with this.
"He said sorry, he made a mistake, it was an accident. Now, obviously, we're taking proper action but, tomorrow, he will play and he's focused to play a good game.
"[There was] never any chance [Cole being sacked]. He's our player. He's always put in very good behaviour here. When a player says 'sorry, I made a mistake', it's difficult to do different. We're not out of control. If players step over the line, we take a decision."
Ancelotti said he does not believe Cole's actions are reflective of a loss of discipline at the club.
"No one can say we're out of control," the manager said. "It's not true that there's a lack of discipline here. You can judge the players on the pitch, and they show fair play, respect for the referees, respect for the fans. This is what we have to judge, not other things."
Police said yesterday that they would be looking into the shooting.
Surrey Police said: "While no direct allegation has been made, the matter has been brought to our attention through reports in the media and we will be contacting the club to establish whether any criminal offence has been committed."
It was reported that the sports sciences student, who is on a one-year work placement at Chelsea, was hit in the side by a lead pellet at the club's training ground in Cobham.
It's Chelsea v Man Utd on Tuesday night – see the best odds on EVERY market here…
Take advantage of the sales by saving up to 36% on a subscription to World Soccer