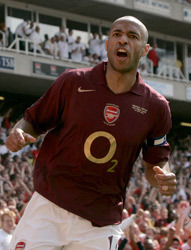 Arsenal striker Thierry Henry has spoken of the anger that motivates him and which he believes is the key factor in his development as a footballer.
Speaking ahead of Wednesday's Champions League final against Barcelona Henry explained that his attitude was instilled at a young age.
"I'm always driven by anger and desire," he said. "Everything comes from my dad – my spirit, my desire, my commitment.
"My father taught me never to be satisfied with what I have and now that is my philosophy. It's my way and that's why I have reached this far and why I'm playing the football I am at the moment.
"People are scared of anger and sometimes they give me aggro about the way I am out on the pitch. But I'm not afraid to use my anger in a positive way.
"It's the anger factor. If you don't have it any more you might as well stay at home."
Henry believes he is not alone among the world's leading players in drawing upon anger.
"You see the same thing when you watch Wayne Rooney and Ronaldinho," he observed.
"When I see those two I see a player from the streets. Everyone talks about Ronaldinho smiling all the time but inside there are no smiles.
"You can't teach that. You have to have it inside you – and it comes from the way you've been brought up from a difficult background.
"There is no better school than the streets. That's where you learn your toughness."
Returning to the Stade de France in his native Paris, Henry will be hoping to make more of a contribution on Wednesday than he did in Farnce's World Cup triumph over Brazil in 1998.
"I was supposed to play in the World Cup final against Brazil," he reflected.
"The idea was that I would come on 10 minutes into the second half, but then Marcel Desailly got sent off and suddenly the whole game plan changed.
"Barcelona and Arsenal have the players to put on a great show," he added.
"But the result is what really matters."