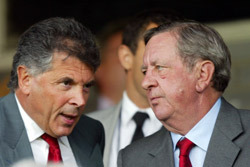 Compare football odds from over 25 bookmakers and claim £500+ in Free Bets. Click here for offer!
Arsenal chairman Peter Hill-Wood has vowed to fight any potential takeover of the club.
Vice-chairman David Dein left the club as US billionaire Stan Kroenke bought a 9.9% interest in Arsenal, but Hill-Wood says he intends to fight any bid launched from the States.
"Why don't we want the American at our club? Call me old-fashioned, but we don't need his money and we don't want his sort.
"Our objective is keep Arsenal English, albeit with a lot of foreign players."
Aston Villa, Liverpool and Manchester United have all been bought by American owners in the last 2 years, but Hill-Wood insists Arsenal will not travel down that path.
"Americans are buying up chunks of the Premiership football clubs and not because of their love of football but because they see an opportunity to make money," he continued.
"They know absolutely sweet FA about our football and we don't want these type of people involved."
Arsenal boss Arsene Wenger has spoken of his "huge disappointment" after vice-chairman Dein's departure.
Dein, the man who brought Wenger to Arsenal in 1996, left Arsenal on Wednesday because of "irreconcilable differences" with the board.
Wenger told Arsenal TV Online: "It's a huge disappointment because we worked very closely together."
Wenger said he was on good terms with the other club directors, but gave no clue as to whether he intends to extend his contract which expires next summer.
"My position is that I am linked with the club very strongly," added Wenger.
"The relationship with the rest of the board has always been very good and we try always to have a good understanding."
Earlier on Thursday Arsenal chairman Hill-Wood had moved to allay fans' fears that Wenger would leave the club.
"The relationship that Arsene has with the board is good," said Hill-Wood.
"He is on contract until 2008 and we hope he will extend beyond that.
"It's well known that Arsene and David have got on very well over the past 10 years and I am certain that Arsene will miss him."
Dein, 63, who holds 14% of shares in the club, will no longer act as director after leaving because of differences concerning the direction in which the club was heading.
But the chairman has been keen to stress that Dein's departure had nothing to do with the transfer funds available to Wenger.
"We've always made funds available to Arsene, he attends the board meetings, he understands the financial position," said Hill-Wood.
"I can assure supporters that we will continue to provide funds when Arsene requires them.
"We have a very good squad – young, maybe, but developing well – and if Arsene wants to strengthen it we have the money to provide him with any reasonable purchases he wants to make."
Compare football odds from over 25 bookmakers and claim £500+ in Free Bets. Click here for offer!