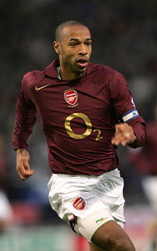 Arsenal chairman Peter Hill-Wood said the club will not risk the financial welfare of the club in order to keep Thierry Henry at Highbury.
The Gunners are set to make Henry, whose current deal expires in 2007, the highest-paid player in their history.
"We will try to keep the wages at a level we can afford. It is not rocket science," he told the Daily Star.
"If you don't, you get into trouble like Leeds did a few years ago, so there is a ceiling. We have limits.
"Hopefully we can come to the right agreement, although I don't know that for certain," he said.
Talks over a new deal for Henry are due to begin in the near future and Arsenal are reportedly prepared to offer a five-year deal for the Frenchman.
"Talks will start very soon. He's 28 and in tremendous shape, so a five-year deal isn't out of the question. We will go to the limit with his salary," Hill-Wood added.
"It will show people that we are indeed ambitious and want to keep our best players.
"That can only help when we want to bring in new ones."
Henry had been widely linked with a move to Barcelona after refusing to open talks on a new contract.
However, following Henry's admission that he wanted to stay with Arsenal, a relieved Arsene Wenger is now also keen to resolve the situation as soon as possible.
"I always felt that, once he had made up his mind, the situation should be sorted out quite quickly," said the Arsenal manager.
"That's my desire now because, the longer it lasts, it is not good for the club and for the team.
"If he did not make up his mind, I was ready to wait but now he has made up his mind, I feel we have to act quickly.
"That, again, doesn't depend only on me – it depends on the negotiations and when he will be ready to sign but I think the quicker, the better."
Subscribe to World Soccer – The essential football magazine