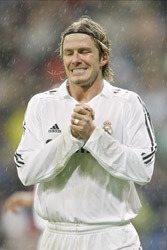 Arsenal chairman Peter Hill-Wood has ruled out the suggestion that England captain David Beckham might join the club.
Acccording to reports at the weekend Arsenal were planning move for the 31-year-old, who has one year left on his contract at Real Madrid.
However, Hill-Wood responded: "It is absolute nonsense.
"Beckham's name has never come up at boardroom level and I would be very surprised if Arsene is interested," he told the Daaily Star.
"I am sure he is looking around for players, but for which position I don't know at the moment.
"I don't think going for big names is Arsene's method. He will buy a young player he thinks is going to fit into his system."
Wenger admitted that he was an admirer of Beckham but did not confirm that he was interested in signing the England captain.
The reports at the weekend suggested Wenger had identified Beckham as a high profile player who could help the club's income through shirt sales and sponsorship.
But Hill-Wood added: "He's not interested in buying a star. We're playing good enough football to fill the new stadium anyway."
Beckham still has one more year on his deal after this season, and it is understood he would like to stay at the club. He is believed to be keen to work under Fabio Capello, the man tipped to become the new Real boss in the summer.
However, Lorenzo Sanz, who is expected to run for the club presidency at the end of this season, has been quoted as saying that Beckham was not a great player and was dispensable.
Subscribe to World Soccer – The essential football magazine.