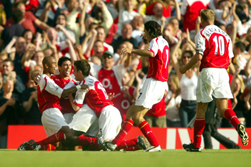 Arsenal manager Arsene Wenger praised his players after watching The Gunners equal Nottingham Forest's 42-match unbeaten top-flight record.
"Once again you saw our mental resources, we never lost our nerve," said Wenger in after watching his side come back from 3-1 down to earn a thrilling 5-3 victory over Middlesbrough.
"At 3-1 down we were tested mentally and football-wise and we got a fantastic response from the players.
"When we have a bad defensive day, we can have a great offensive day and that is the way we all pull together."
"We didn't defend well today but we found other resources to compensate for that.
"There is a special feeling among the players, a special spirit and you can see that by the fact that we don't lose.
"If you don't lose for such a long time it is a bonus because you can go out on to the pitch and focus on the game you're about to play in and have no subconscious fears."
Wenger also praised his players for their attitude.
"I think we are seeing a fantastic attitude from professional footballers when they are not always in the media for the right reasons," he continued.
"They've had a fantastic attitude for 42 games and no matter what sport you play or how good you are, that is something special."
"I didn't smile when we were 3-1 down but that is part of the game.
"I'm committed like my players and at 3-1 down I wanted to bounce back and fight back as much as they do."
Arsenal's have the opportunity of breaking Forest's 42-game unbeaten record when they meet Blackburn on Wednesday.
"You have seen today that you cannot plan for two or three games ahead, you have to focus on the game in front of you because there are good sides in the Premiership who are capable of beating you.
"What keeps the players going is that we want to win the next game."
Arsenal striker Thierry Henry insisted there must be an end product to the Gunners' record-breaking run.
"Even on the pitch we didn't realise what we had done," said the French striker.
"At 3-1 down we thought it wasn't going to be our day and one day it will happen that Arsenal will be beaten.
"We are trying to make it last but it doesn't mean anything if you break the record but don't win anything."