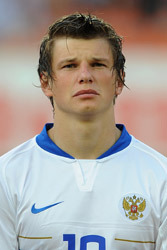 Andrei Arshavin has officially completed his transfer from Zenit St Petersburg to Arsenal, signing a three-and-a-half-year deal with the Gunners.
The Russia international passed a medical and agreed personal terms with Arsenal on Monday, but the switch to Emirates Stadium was not confirmed until ratification came from the Premier League.
A statement on the club's official website read: "Arsenal Football Club is delighted to announce that Russian international midfielder Andrei Arshavin has joined the Gunners from Zenit St Petersburg on a long-term contract for an undisclosed fee."
The move ends a long-drawn-out saga which included lengthy negotiations between the Gunners and Zenit over the fee, with the Uefa Cup holders holding out for a lump sum of £15million.
Arsenal were forced to delay naming Arshavin as their player until late this afternoon as it was one of a number of transfers awaiting approval by the Premier League board.
Zenit's official website earlier confirmed the deal had been completed, although they credited a Russian news agency for the story.
"Zenit, Arsenal and Andrei Arshavin have concluded talks in London," the report on www.fc-zenit.ru read.
"An FC Zenit source has informed Fontanka that the talks were successful, and Andrei Arshavin is moving to Arsenal. The signed documents have already been sent to the English Football Association [Premier League].
"A source close to the discussions has told Fontanka that the terms of the deal are financially suitable to Zenit.
"The St Petersburg club will receive £16.5million – £15m for the transfer of the player and £1.5m compensation for breaking a long-term contract.
"In addition there is a further 500,000 Euros [£450,000] in bonuses which Arshavin has not yet received which will not be paid and instead make up part of the transfer sum.
"The overall sum of the transfer is around US Dollars 24m [£16.9m]."
However, when asked if he was an Arsenal player, the Russian international told his personal website this morning: "I think so. The negotiations came to a close and there will be details [on Tuesday].
"Now I can say only one thing – that if I play for Arsenal, it will be at number 23."
Arshavin and Zenit were also in talks over a final payment that threatened to scupper the move, but the deal has now been rubber-stamped after the matter was resolved and the paperwork finalised on Tuesday.
The talented forward could make his Arsenal debut against North London rivals Tottenham Hotspur on Sunday.