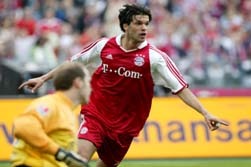 Michael Ballack has confirmed that he wants to stay with Bayern Munich for the forthcoming season and hinted he would like to extend his contract beyond next year.
"We're all assuming that I'm going to be playing here at least until 2006," Ballack said. "That's why I'm here.
"Bayern have big aims: We want to defend the league championship as well as the German Cup and go far in the Champions League. And I want to be part of that."
Ballack's current deal runs out at the end of the 2005-06 season, and he has been linked with a move abroad, with Real Madrid reported to be keen to sign the captain of the German national team.
"I'm in the good situation that I can choose," Ballack added.
"It's a very important decision for the club and for me and that's why it should be carefully considered. It could take a few days, a few weeks or perhaps a few months. But the possibility that I'll extend is high. I feel good here."
Earlier, Bayern chief Uli Hoeness told German television that Bayern would prefer to lose Ballack rather than pay the sort of huge salary on offer elsewhere in Europe.
"We insist on sporting success being tied to financial prudence," Hoeness said. "The point may come when we have to say no."
"When people start talking about 10 million-plus I just don't understand the world any more," Hoeness said.
"Surely no-one believes Ballack earns more than four million or thereabouts? And we're supposed to be considering more than doubling that?"