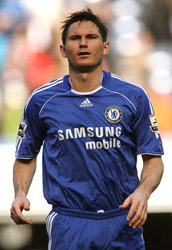 Barcelona sporting director Txiki Beguiristain has ruled out a move for Chelsea midfielder Frank Lampard.
Lampard has been touted as a potential target for Barcelona as the England midfielder has so far failed to agree a new deal at Chelsea.
Barca, although admirers of Lampard, insist they will not be making a move for the midfielder.
"I think he is an extraordinary player characterised by his shots on goal and the number of goals he scores," Beguiristain told Sky Sports News.
"But when you look at our squad we are currently really well catered for in that department.
"We have got players like Deco, Xavi and Iniesta who have similar characteristics as well as amazing control of the ball.
"At the moment we are really happy with our trio of midfielders.
"So as things stand there really isn't space for another player of this type."