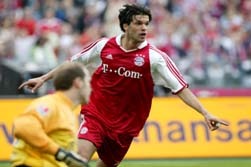 Bayern Munich are now worried that Michael Ballack will walk away from the club on a free transfer.
Ballack's ongoing contract saga is due to come to a conclusion in the coming weeks as he reaches a decision on whether to stay at the club.
The German international's contract ends at the end of the season and has been offered a four-year deal to remain at the Allianz Arena.
Balllack has also been linked with a move to Manchester United and Real Madrid although neither club has confirmed their interest in the playmaker.
Bayern's general manager Uli Hoeness has now hinted that Ballack has decided to leave the club at the end of the season.
"I think I know what his decision will be and we will have to be able to live with that decision," said Hoeness.
"His continuous hesitating creates an area for speculation. If he wanted to remain in Munich, wouldn't he have said so by now?"
German champions Bayern had been confident that they could persuade Ballack to stay at the club, although they have given the player a number of deadlines to announce his intentions – all of which have passed without any decision being forthcoming.
Meanwhile, Ballack's agent Michael Becker has confirmed his client will not be leaving Bayern in January.
"There is absolutely no chance of Michael leaving in January," said Becker.
"First, it would cost him any chance of winning the Champions League this season, which is the prime motivation for the remainder of his career.
"Secondly, what would be the point of Bayern selling him because they could make more in the Champions League prize money with him in the team than they would in a transfer fee given he only has six months left on his contract.
"And thirdly, why would he want to leave Germany such a short time before he is due to captain them in the World Cup?
Becker admitted that even he didn't know the intentions of his client.
"I think Michael will either say he is staying, or he will say he is leaving and would like to join a particular club.
"That would at least allow him to start negotiating in January.
"I must stress that Michael has spoken to no-one about his future yet and has certainly not spoken to any other club about his plans.
"I still don't believe he has totally decided in his own mind what he wants to do, although he is probably pretty close."
Subscribe to World Soccer – The essential football magazine