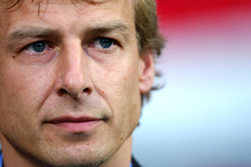 Premier League strugglers Newcastle face a must-win game tonight when Pompey head to St James' Park.
Jurgen Klinsmann has been sacked as coach of Bundesliga giants Bayern Munich.
The former Germany boss had been under a lot of pressure following a string of poor results, culminating in Saturday's home loss to Schalke – a result that leaves them third in the league and in danger of missing Champions League qualification.
Former Bayern manager Jupp Heynckes will take over the reigns for the final five games of the season, it has been announced.
Klinsmann sat down with Bayern chiefs shortly before 10am, and was told of their decision to sack him – despite him having a contract with the club until 2010.
"FC Bayern are parting company with Juergen Klinsmann. There will be a press conference scheduled for later in the day," a press officer told Reuters.
It is understood that Heynckes will not be considered for a long term role with the German champions.
"We did not come to this decision lightly," Bayern chairman Karl-Heinz Rummenigge said in a statement.
"But the results of the past weeks, the way in which they came about and above all, the situation we find ourselves in five games before the end of the season forced us to act out of a sense of responsibility to the club.
"In Jupp Heynckes and Hermann Gerland, we have two experienced coaches who will take over the running of the team until the end of the season."
Speculation over Klinsmann's future increased after Bayern lost 4-0 at Barcelona in the first leg of the Champions League quarterfinals earlier this month, a performance club president Franz Beckenbauer described as the worst he had seen from Bayern.
Despite his dismissal, Klinsmann, who previously led the german national side, said that he had laid the foundations for Bayern to succeed in the future.
"Of course, I am very disappointed at the moment," Klinsmann said, thanking the club, its fans and employees for "an eventful time."
"We have laid the foundation for the future," he added. "I still believe that this team can become German champion this season."
Premier League strugglers Newcastle face a must-win game tonight when Pompey head to St James' Park.
For more fascinating features, subscribe and save 30% and use the below link?