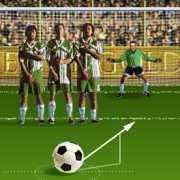 Real Madrid may be struggling on the pitch, but off it, the club has never looked stronger, with income expected to have doubled over the last two years.
Madrid's income since 2002 is expected to nearly double, from €152m to an expected €300m for the 2004-05 season, according to figures presented at the club's annual meeting on Sunday.
Of that, almost half (45.6%) is expected to come directly from marketing, with only €91m coming from club membership and ticket sales.
"The signing of Beckham revolutionised income through marketing," the newspaper El Pais said yesterday.
However, Beckham's arrival has also coincided with a decline in the team's on-pitch performances.
Real Madrid won the Champions League in 2002 and the Spanish league title the following year but since Beckham's arrived at the Bernabeu, the club finished fourth in the league and failed to make much of an impact in the Champions League. This season the team has fared even worse, languishing in 10th place in La Liga and by no means certain of qualifying from the Chapions League group.
The two fastest-growing sectors in the club's financial activities, television coverage and marketing, will jump from a combined €89m in 2002 to an expected €209m for this season.
The vast majority of the increase in marketing revenue comes from deals struck with blue chip and through image rights. The importance of Beckham for these companies, particularly in Japan and China, cannot be overstated with his
El Pais claim that Perez once underlined the importance of Beckham by saying: "I'll sell the Bernabéu Stadium before I sell Beckham" is being attributed to Perez.