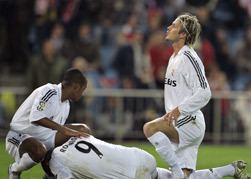 Real Madrid midfielder David Beckham was hit by a coin in the weekend derby match against Atletico Madrid.
The England midfielder spoke of the volatile atmosphere at the vocente Calderon stadium as was Real Madrid earned a comfortable win over theoir local rivals.
Beckham admits he was expecting a hostile reception but having been hit by a coin, he admits that in England this type of behaviour would not be tolerated.
"No, not with cans, bottles, lighters and apples," said Beckham.
"You're sort of waiting for something to hit you in the corner.
"Luckily for me, the worst that happened was I got hit by a coin on the shoulder."
Having had an apple thrown in his direction Beckham tried to placate the crowd by taking a bite, but fearing the risk of being poisoned, he decided to spit it out again.
"'I had a bite of an apple but spat it out just in case," he concluded.
The home crowd were angered early on when Antonio Lopez was sent offfor a foul on Raul after only seven minutes, with Ronaldo scoring from the subsequent penalty.
Atletico also had six players booked in a keenly contested game as Real extended their winning run to four league games.