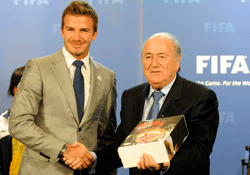 Dimitar Berbatov is the new Premier League top scorer after his 5-goal haul against Blackburn – what price is he to win the Golden Boot now?
David Beckham believes the damage caused by the Panorama investigation has removed by England's 2018 World Cup bid team.
The former England captain, Prime Minister David Cameron and England 2018 international president David Dein met FIFA president Sepp Blatter in Zurich on Tuesday and corruption allegations were among the topics discussed.
In a Panorama programme screened on Monday night, it was claimed three of the 22 FIFA executive members, who will take part in Thursday's World Cup vote, had accepted bribes during the 1990s, and another, FIFA vice-president Jack Warner, had attempted to buy tickets to supply the black market.
However, Beckham is confident that the recent revelations will not cost England votes.
The England veteran said: "Me, David Dein, the Prime Minister and other members of the team sat down with president Blatter this morning and it was one of the topics that we spoke about and something that was cleared away.
"What we made clear to him, and what he already knows, is that if we get the World Cup in 2018 our media are right behind us, our media are so positive towards the sport and towards it growing in our country. It is something that could so big in our country.
"I think that president Blatter is well aware of the support that we will have for Fifa and the World Cup.
"He brought it up within the talks and obviously it was not the easiest of things to talk about. He realised that a lot of it was old stuff and a lot of it was said. A lot of things go on and it is out of our hands."
After the meeting with Blatter, Cameron had a meeting with Warner, who remains a key figure if England are to have any hope of beating Spain/Portugal, Russia and Holland/Belgium to host the tournament.
Prince William added his voice to the comments of Beckham and Cameron after the trio had a discussion about World Cup 2018.
He said: "I think the bid is the strongest, it's fantastic. We've been having a chat about all of the ins and outs of the bid and it's looking fantastic, it is going good guns. And we're looking forward to a positive outcome.
"Everyone knows how great football is in England, we love it, we're passionate about it; it's fierce, it's competitive, it's everything football should be.
"I think a World Cup in England would bring the country together. I think everyone would get fully behind a World Cup in England.
"It would have so many positives to come out of it. It would help the young coming through and have a major impact at the grassroots level football which is massively important.
"It would build up some really keen English fans and English players. There are only positive things that would come out of a World Cup in England."
Read World Soccer's in-depth guide to the World Cup bidding process
Dimitar Berbatov is the new Premier League top scorer after his 5-goal haul against Blackburn – what price is he to win the Golden Boot now?
A subscription makes the Christmas perfect gift. Give a lasting gift this year and save up to 33% when you subscribe.