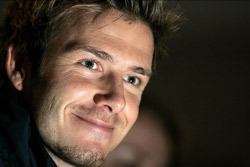 England captain David Beckham says that he is determined to finish his career at Real Madrid.
The midfielder has also denied that his position at the club is linked to the possible appointment of England manager Sven-Goran Eriksson as Real's new coach.
"To be honest I want to sort my contract out anyway whether Eriksson comes or whether he doesn't, whoever comes," Beckham said.
"I've said I want to stay in Madrid and I want to stay playing here."
Beckham, whose current deal expires in 2007, admits that the internal turmoil at the club in recent months, has hindered contract talks.
"There will be a set of talks maybe in the next few weeks, but there have been changes at the club," he said.
"Every time you go to sort something out something else changes but I've got used to that now to be honest. I still go to the president.
"Maybe it would be a good thing if it gets sorted before the World Cup.
"But even if it didn't, I wouldn't go into the World Cup worried about my future to be honest. One way or another it will get sorted out."
Florentino Perez quit as club president last month and his successor Fernando Martin has said he is looking for a new coach, with Eriksson one of seven candidates he has targeted for the post.
Beckham insisted that the only reason he would not extend his contract would be if the club wanted to sell him.
"I've been here for three years and had five different managers and two presidents and I know things change very quickly at this club," said Beckham.
"Only if the club said they didn't want me (would I leave) and they have not said that. They are very keen on getting these talks under way.
"At the end of the day I love playing for Real Madrid, I'm happy here and I don't want to move my family about any more.
"The kids are happy and my wife is happy. We've just got a new house. There is no reason to go anywhere else."
Subscribe to World Soccer – The essential football magazine.